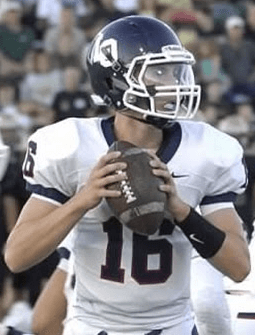 One of the top Northwest QB/RB combos for the class of 2016 is Mitch Verburg (6-3 185 Jr. QB) and Max Mattern (5-11 200 Jr. RB/LB) of Lake Oswego. Verburg is ranked one of our top junior quarterback's in Oregon and Mattern is a dual threat kid that earned 2nd team all league honors at linebacker last season.
The Lakers are a very deceptive (4-4), with 9 starters missing during the first three weeks of the season while on suspension. As most know Lake O plays in the state's toughest conference, dropping three close games to #2 Tigard, #7 Sherwood, and #9 West Linn.
Verburg is a phenomenal baseball player but has a stock that is rising quickly on the football field. He has a legit frame and is a kid that can sling it, throwing 14 TD's and rushing for another on the year. His overall athleticism speaks to his upside as Mitch will have options at the collegiate level.
Max is a workhorse out of the backfield scoring 6 TD's thus far, with injuries taking a toll early. Referencing the season he says, "Since we got everyone back the team chemistry has gone back to what it was in the summer, as guys are stepping in as leaders now". Adding, "Personally my primary goal is to stay healthy and finish the year as I have been battling ankle issues."
Lake O is a traditional Northwest football power and a team that could make a run come playoff time. Speaking on that Verburg says, "We lost to a couple good football teams, but our guys aren't down about the losses". He continued, " Everyone is looking forward to the opportunity to surprise some people, as every game in the TRL is a quarterfinal contest and we are excited to make a run."
Steve Coury is one of the most successful & respected head coaches in state history, and he has a quality set of athletes to lead over the next two seasons. We will keep you updated on the talented group out of LO as the regular season winds down.