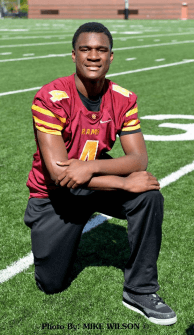 ** There are talented Junior's up and down the board at the WR spot within the State of Oregon. Here are a few as of right now that currently hold offers or project at the D1 level.
LaMar Winston 6-3 205 WR/OLB Central Catholic
http://www.hudl.com/athlete/3028553/highlights/94792751
Physically one of the most impressive kids in the entire country. Oregon St has offered as LaMar can play on either side of the ball, earning all conference honors from his OLB spot during last year's state title run.
Winston had 14 catches for 417 yards and 5 TD's going into the #1 ranked Rams 33-7 win over Clackamas this week. His 29.8 yards per catch average compliment his dominance on the defensive side of the ball. Expect to see multiple high profile D1 schools offer in the coming months as he is one of the top overall athletes in the nation.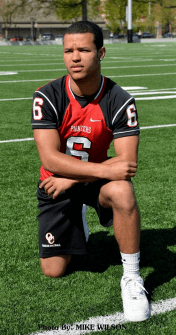 Trevon Bradford 5-11 180 Slot/CB Oregon City
http://www.hudl.com/athlete/1475243/highlights/117055377
One of the most exciting athletes in the region. He is a threat to go to the house any time he has the ball in his hands, earning 1st team all league honors as a sophomore. Bradford was offered by Montana St this off season, and has totaled 15 TD's thus far in 2014.
Trevon has scored almost every way possible (run, pass, lateral, FG return, INT, and Kick & Punt return). He will be a conference player of the year favorite and separates himself with unique cuts and acceleration that are on display each and every Friday night.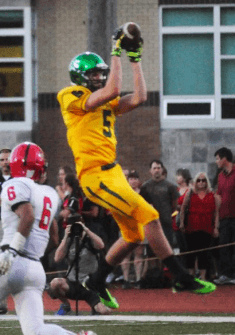 Cody Coppedge 6-3 180 WR/DB West Linn
http://www.hudl.com/athlete/3511062/cody-coppedge
Coppedge is all of 6-3 and was a 1st team all league WR as a sophomore, something very tough to do in the brutally tough TRL. He has caught 41 passes for 685 yards and 9 Td's on the year, and is one of the top defenders in the conference. #9 West Linn is legit at (6-2) .
The Lions feature some of the most talented underclassmen in the state, as elite sophomore QB Tim Tawa has spread the ball around. Cody is an outstanding overall athlete with D1 genes, who was also part of two state championship basketball teams in 2013 & 14.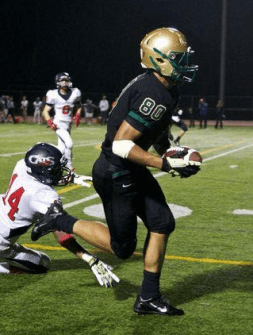 Jordan Happle 6-1 185 WR/FS Jesuit
http://www.hudl.com/athlete/3044446/highlights/183346377
Happle has gone off this season, and is looking like one of the top receivers in Jesuit High School history. He currently sits with 9 TD catches, and is closing in on 1,000 receiving yards and 50 receptions, with one week to go in the regular season.
Jordan is also a defensive standout, leading the team in INT's as a sophomore (4). He has D1 genes and a phenomenal upside with his father playing D1 football and baseball at Towson St. The Crusaders are a run first team, but Happle is the real deal and brings much needed versatility to the offense.
Oregon Breakout Performer: Connor Berggren 6-2 175 WR West Linn
After 6 weeks Berggren had 23 catches for 568 yards and 9 TD's, coming out of nowhere and looking like one of the top junior's in the state.
Expect Connor to be a big factor moving forward as Tawa will distribute to him, Coppedge, and all everything athlete Elijah Molden a great deal over the next two years.