Trever Watson Jr. QB Springfield– The returning MWC Player of the Year had another very impressive night going 19/25 for 338 yards and 3 Td's, also rushing for 78 Yards and a score. Watson has gone 101- 166 for 1,802 yards and 17 Td's, with 75 rushes for 502 yards and 9 TD's this season. He accumulated 46 TD's (rushing,passing) to 3 INT's last year.
Chris Adamo Sr. ATH/CB Mountain View– One of the state's top CB's continued his impressive season offensively, making 8 catches for 176 yards and 2 TD's in the Cougars 37-14 win over Ridgeview.
Cameron Scarlett Sr. RB Central Catholic– One of the nation's top players is back healthy. Cam rushed 22 times for 169 yards and 2 TD's, also catching a 45 TD Pass in the 33-7 win over Clackamas.
John Bledsoe So. QB Summit– Bledsoe had a big night as the #8 Storm continue to improve, going 22-28 for 334 Yards and 4 Td's, in the 40-13 win over Bend.
Troy Fowler Sr. QB North Medford– The SWC's returning Player of the Year continued his phenomenal career with the Black Tornado, hitting on 22 of 30 passes for 362 yards and 4 Td's in the 49-22 win over South Medford.
Handsome Smith, Sir'Ray Smith , Zach Smith RB's Gladstone – The Gladiator backs went for 420 yards on 36 carries and 8 TDs, in the 70-21 win over a good Molalla team.
Chase Morrison Sr. RB Jesuit– Morrison is just really good. He went for another 4 Td's, rushing 12 times for 161 yards. Chase is healthy and building on last season after rushing for 2000 yards and 30 Tds.
Liam Fitzgerald Jr. QB Camas– One of the most impressive Junior QB's in the Northwest added to his impressive season. He went 20 of 24 for 270 Yards and 3 Td's in their conference title clinching win over Mt View.
Trevor Bovero Sr. RB Westview– One of the most underrated kids in Oregon rushed 27 times for 205 yards and 3 TDs in the Wildcats 45-14 win over Sunset
JT Greenough Sr. QB/ Brady McGetrick Sr. WR Tigard– Greenough has come back strong from a minor injury and has the Tigers playing well. He threw for 252 yards and 4 more Td's, hitting McGetrick for two scores (56,42). Brady has gone off this season.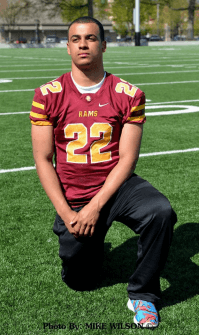 Speedy Sanchez Sr. RB Barlow– The senior continued his impressive year carrying the ball 24 times for 296 yards and 4 Td's in the 36-35 loss to Reynolds.
Trevon Bradford Sr. Slot Oregon City– Bradford has had one of the most impressive seasons state wide, adding 3 more Td's (52 pass, 81 FG return, 60 lateral), now with 15 on the year. The Pioneers beat Centennial 56-14 as OC is back looking like a top 10 team.
Austin Brisbee Sr. QB / Ian Myers Sr. TE Westview– Brisbee is on pace to break some significant records if he can continue his play and help his team make a playoff run. He went 28 of 44 for 357 yards and 3 TDs, with Myers once again ballin, making 9 catches for 138 yards and 2 Td's
Jovon Lewis Sr. RB Grant– Lewis filled in nicely for all everything back Michael Waters who went down with an injury in the 2nd Qtr. Jovon carried the ball 20 times for 115 yards and 2 Td's to help the Generals win the PIL title 20-18 over Roosevelt.
Wesley Riddell Sr. RB Central– Oregon's leading 5A rusher continues to dominate. He carried the ball 40 times for 325 yards and 5 more TDs as he is a state player of the year candidate.
Jesse Wilcoxon Sr. RB Tanner Earhart So. RB / Dallas D– Wilcoxon had a good night rushing 10 times for 151 yards and 2 TDs (91,24), with the talented Sophomore Earhart rushing 14 times for 92 yards and a TD. The Dragons D was clutch in the 28-0 win over Lebanon.
Caleb Browning Sr. RB Union– Browning will be a GSHL Player of the Year candidate, rushing 18 times for 279 yards and 3 TD's in their win over Battle Ground.
Joey Roos Sr. S/QB West Albany– The 1st team all state safety made two clutch INT's in the 4th Qtr, also rushing 14 times for 86 yards and a TD in the 22-21 win over a good West Salem team.
Tristen Holmes Sr. ATH /Josh Hansen Sr. WR /Jared Evans Sr. WR North Medford– One of the top receiving cores in the Northwest had a nice final Black & Blue game. Holmes caught 7 passes for 109 yards and a TD, with Hansen catching 6 passes for 116 yards and 2 Touchdown's. The state's #2 ranked WR (Evans) caught 2 passes for 72 yards and a TD.
Hermiston– The Bulldogs are legit and ranked the #2 team in the state. They have blasted their last two opponents 130-13 (The Dalles/ Hood River), with their only loss coming to regional power Couer'd Alene, Idaho 31-27.
Hunter Mattson Jr. RB Corvallis– One of the state's top Jr backs had a nice first game back from injury, rushing 24 times for 261 Yards and 2 TDs in the 38-28 loss to #7 Central.
Talonoa Hufanga Fr. QB Crescent Valley– Hufanga has D1 genes with his brother at Oregon St as he is one of Oregon's top freshman. He carried the ball 9 times for 51 Yards in the Raiders 24-7 win over South Albany.
Brandon Casteel Sr. RB Washougal– Its not every day a kid runs for 400 yards. Casteel continued his outstanding season rushing 40 times for 401 yards and 4 Td's.