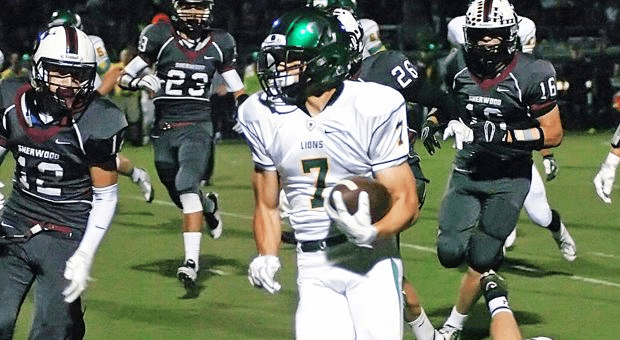 Year in and year out West Linn features one of the elite youth programs in the state of Oregon. For years that did not translate at the high school level, but things look to be changing. The addition of former Duck and NFL QB Chris Miller as the head coach has brought life to a program that has the potential to be great.
Miller is widely regarded as one of the top coaches in the region, and an individual that understands what it takes to get his team to the next level. The 2014 Lions (9-3) had their season end this past weekend, losing to #1 Central Catholic in the state quarterfinals.
That said It was the best year for the school in decades, if we are talking about the future and what they have to look forward to. Sophomore QB Tim Tawa (5-11 170 17′) earned TRL Player of the Year honors, in one of the most impressive season's for any sophomore to date. Through 11 weeks Tawa had thrown 37 TD's/ 5 INT's for 2,824 yards in the state's toughest conference. He recently committed to Stanford for baseball, and could very well go down as one of the top dual threat athletes in Oregon history before all is said and done.
Elijah Molden (5-11 180 17′ RB/CB) is currently ranked one of the top players in the nation for the 2017 class. He has already been offered by the likes of Oregon and Washington, and could very well see an offer from every top 10 school in the country before signing day. He is that good. As most know he is the son of former 1st round NFL pick and Oregon Duck Alex Molden. Elijah went for over 1300 all purpose yards and 16 touchdowns on the season, while earning 1st team all conference honors on both sides of the football.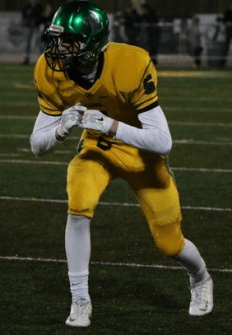 Add to this two of the state's top Junior wide receivers and you have one of the elite core groups in the Pacific Northwest returning. Cody Coppedge (6-3 180 16′ WR/S) and Connor Berggren (6-2 175 16′ WR/CB) both went off this past season with Coppedge catching 58 passes for 973 yards and 13 TD's. Berggren added 47 receptions for 997 yards and 13 touchdown's statistically, prior to the loss to CC.
Moving into next season the Lions will return 17 starters, projecting as an unquestioned top 5 team. Junior's Sam Chitty (6-0 200 16′ LB) and Blake Fletcher (6-2 210 16′ OLB/DE) each earned 1st team all TRL honors and look like two of the top players in the state at their position.
Speaking on this season and beyond Coppedge says, "I had a great experience with the leadership of our coaches and senior's". Adding, "Making the quarterfinals was a leap from what we have done, and lets us build on our confidence for next year."
The senior group wasn't deep with regards to numbers, but was praised by all. Rudy Hughes (6-3 185 15′) earned 1st team all league honors and was one of the breakout upperclassmen in Oregon. He has legit size and can play at the next level. Kurt Moon is very similar at 6-5, while Collin Clarke, and Nick Yokubaitis were a few of the other all conference senior's who made the season special.
Alex Forsyth (6-4 275 17′ OL/DL) , Cam Keizur (6-4 250 16′ OL), Connor Maloney (6-2 205 17′ C), and Hayden Bell (6-1 245 16′ DL) earned all conference accolades and will return to lead the line next season. Forsyth could very well be the top sophomore lineman in Oregon and will have multiple D1's lining up for his services.
Countless other kids return that will be impact players. It is estimated that there are 8-10 athletes that did not play football this year, who could very well be all league type individuals if they return. Oregon's top basketball player Payton Pritchard and speedster Dean Swanson to name a few.
Junior's KT Seth and Khalil Monson got time and did great work. Other 2016 athletes that could have breakout seasons next year include Logan Sullivan, Jack Holland, Austin Pesicka, Jake Nelson, and Matt Schmitz. 6-6 Junior quarterback Brooks DeBisschop also showed that he could get the job done throughout the year.
All in all expect the Lions to be one of the most talked about teams in the region come next season. D1 kids are listed up and down the board as they will be a legit conference and state title contender moving forward. Congrats to the West Linn football community on what looks to be some exciting years ahead.