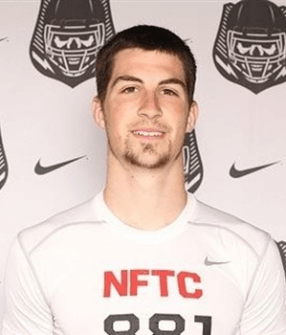 It has been a successful career to say the least for Oregon's top senior receiver Keegen Hlad (6-3 185 WR/S) of West Salem. On Friday the Titans (10-2) will play undefeated Tigard (12-0), in what amounts to one of the most important games in school history
The talented wide out has had another 1st team all state type season, catching 38 passes for 17 TDs and 650 yards thus far. His 30 career touchdowns put him 3rd all time on the school TD list behind Brett and Cade Smith.
All everything quarterback Cade was offered by Utah St a few weeks back, as he will be looking for his favorite target as the playoffs continue.
West beat a #3 ranked Grants Pass team 42-28 last week, which hadn't lost a game all year. The momentum has shifted as the kids out of Salem feel like they can make a run.
Keegen has been our #1 ranked WR (2015) for the last two seasons, but has yet to receive his 1st D1 offer. He was dominant over the spring and summer, earning offensive MVP honors as part of the BFA 7 on 7 all star team that traveled to Vegas. Hlad earned 1st team all conference accolades in 2013 & 2014, doubling up this year from the DB spot. His 4 INT's led the team all the more showing off his versatility.
Hlad will get an opportunity to show what he can do in the state semifinals this Friday against Oregon's top ranked senior DB Sam Inos. Keegen passed former Titan and Oregon State great Jordan Bishop in TD's, and now is looking to help his team to their first title in school history. You can watch the 6A state semi final here – http://www.nfhsnetwork.com/events/osaa/d28fa5ae7c – as Bob Akamian and myself will go live at 12PM from Hillsboro Stadium.