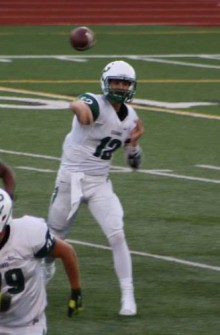 Great news from the Olympic Peninsula where QB Robert Kvinsland of Peninsula High School picked up his first offer when Idaho State University made their intentions known.
The offer came on an in home visit from Bengals QB coach/Offensive Coordinator Don Bailey.
"Feels great knowing all my hard work finally paid off," Kvinsland told NEI. "It also feels like a big relief knowing that I don't need to worry about if I'll ever get offered anymore."
The 6-foor-4 in senior has been in contact with the Idaho State coaching staff for a while now, but wasn't sure if the offer would ever come.
"I've been talking to coach (Sheldon) Cross for a while now," Kvinsland said. "I really liked him (Coach Cross) and Coach (Don) Bailey when I was at the camp they hosted at Cedar Park Christian during the summer, their offense seems like a really good fit for me."
Kvinsland finished with over 2,600 yards passing, 28 touchdowns and only six interceptions. He also completed 65% of his passes, on way to being named the SPSL 3A Offensive Player of the Year. The Seahawks finished 10-2, winning the SPSL 3A Championship for a third straight season, while averaging over 36 points per game.
Idaho State finished their own big season recently. The Bengals finished with an 8-4 record, with two losses coming to FBS opponents, and led the entire FCS in passing yards, averaging 338 yards per game. They are the only FCS team to finish with a player in the top ten national in Passing, Rushing and Receiving yards.
"Its very appealing," Kvinsland says. "It'd be a very fun offense to play in because of how much they throw the ball. Could definitely see myself putting up big numbers."
Should Kvinsland head to Pocatello following signing day, it would be the second straight season the Bengals came into Washington and plucked a highly touted QB. Last season they snagged Tanner Gueller from W.F. West High School in Chehalis.
We wish Kvinsland the best, and will keep you updated as news breaks in the future.