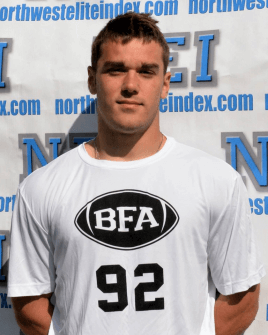 Big news out of West Salem as one of the region's top QB's, Cade Smith (6-2 200 15′) has committed to Utah St. The Aggies are one of the fastest rising D1 schools in the country currently sitting at (9-4).
Cade was named the GVC Player of the Year after throwing for 2,432 yards and 32 TD's/6 INT's. He also became the schools all time leading rusher, accounting for 1209 yards and 17 scores this season. His 49 total touchdowns helped the Titans reach the 6A state semis, dropping a 17-14 thriller to #2 Tigard (13-0).
Referencing the offer Cade says, "It's always the place that I wanted to go, I just felt the need to wait until the season was over to commit." Smith didn't want to distract as West was still playing ball.
Speaking on the past season he says, "I'm gonna miss playing with my boys on Friday night's, but I'm proud of how we went out, coming seconds away from reaching the state championship game."
As most know Cade is the brother of former Oregon Gatorade Player of the Year Brett Smith, who was a standout at Wyoming. The youngest Smith has many of the same attributes showing off his skills the past three years at West Salem as the starter.
Cade was a standout as part of the BFA 7 on 7 travel squad this past spring in Vegas. He is one of the top dual threat QB's to come through Oregon in some time and a class kid first and foremost. We wish him success at the next level.