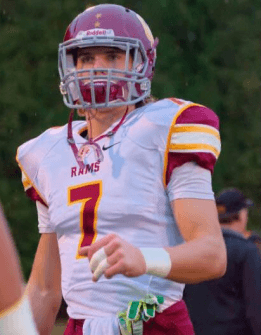 Most are familiar with Oregon commit Brady Breeze (6-1 200 S/ATH 16′) of Central Catholic. The Mt Hood conference player of the year is currently ranked one of the top 10 safeties in America and a big reason why the Rams dominated the state in 2014.
Brady was an MVP on the BFA 7 on 7 travel team last year. He will lead what could be the best Oregon group ever out in Las Vegas in a few months. Many know Breeze for his defensive accolades and ability, but offensively there are few that are better.
Breeze averaged over 10 yards a rush and 20 yards per catch this past season, and will be a player of the year favorite on both sides of the football heading into 2015.
Speaking on CC's recent title run he says, " First off this year was just a crazy experience, I never knew we would be that good and have that much fun together". He continued," We had all these D1 guys, but none of them were selfish… Our common goal is why we were so successful, as we didn't let anyone take it easy in practice and weren't OK with failure."
Heading into Monday's national championship game with Ohio State Brady couldn't be more excited for his future team."It's Pretty cool how the school I am committed to is playing for a national championship this year, I'm definitely thankful and blessed."
Speaking on the upcoming 7 on 7 season Breeze says, "Vegas helped me gain confidence and showed me what I still need to work on". He continued,"I'm really looking forward to going down there and playing with some of the best guys from Oregon, and the region in general."
Many know Brady is the nephew of 8 year NFL vet Chad Cota. The Ashland High School grad was one of the top defensive players ever to play for the Ducks.
Breeze transferred from South Medford this past off season, helping Central to a state title and a(13-1) record. The 49-0 6A championship win helped solidify this group as maybe the best to ever play within Oregon. Their only loss was to the nation's #1 team at the time St John Bosco (Bellflower, WA)
Referencing this year and the future he added, "My team took me in like I was one of them from day one and treated me like I was their brother". Adding, "It was great to meet so many new guys and coaches who have been successful, I couldn't ask for a better school."
In closing Breeze summarized things nicely, "God has given me the opportunity to do something with my life, so I can get a good education from a great university…Go Ducks and God bless."