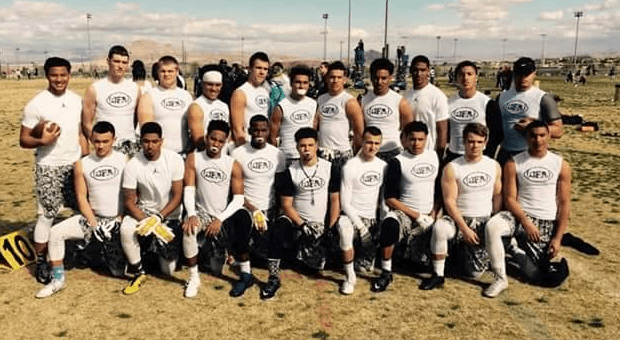 Barton Football Four consisted of 2016 class athletes from the State of Washington, excluding the Vancouver area in the southwest part of the state.
They started a little sluggish on Saturday, going 1-2, but finished with just a -1 point differential. Sunday was a different story as they really ramped it up during the Single Elimination round, coming away with four straight victories before falling to Barton Football One.
Barton Football Four's run to the Elite Eight is the best finish of any BFA squad to ever come out of Washington. Here is a breakdown of the athletes from BFA Four.
Quarterbacks
Amandre Williams (Tahoma) and Justus Rogers (Bellevue) both currently hold D1 offers, on defense. Over the two days each showed they are very capable at QB.
Williams was especially hot on Sunday, showing he might be more than just a high level DE/LB. He has tremendous arm strength and is really beginning to show the touch needed to play at a high level. His leadership was instrumental in guiding BFA Four to the Elite Eight.
Rogers continues to get better and with continued progression, could begin seeing interest at QB. Coming from a high powered running attack can be a tough adjustment, but Rogers has show ability to lead an offense through the air.
Receivers
Tyson Penn (Bellevue) and Parker Dumas (Mount Si) may have been the toughest size matchups in the tournament. Both stand 6-foot-5, 200 pounds, and are tremendously athletic. Sunday was the day to shine for these two, as both were featured downfield and in the air.
Penn was an absolute terror in the air, and will surely be gaining offers in the near future. Dumas was offered by Wyoming a few days following the event, and should be seeing plenty of attention from here on out.
Jace Navejas (Kamiakin) and Kyle Olson-Urbon (Gig Harbor) spent most of their time coming out of the backfield and in the slot. Two of the smaller, but faster athletes on the roster, these two created havoc in the middle of the field and underneath, helping keep opposing defenses honest when defending the size on the outside.
Navejas is one of the more under-the-radar athletes in Washington, as he is a tremendous two-way player, with speed and a great understanding of the game. Olson-Urbon is a Vegas veteran, having competed last year, and is seeing interest from a few Big Sky schools.
Lincoln teammates Alvin Johnson and Tony Archie were two very big surprises when it comes to Las Vegas, and when you add in Jacob Garcia (Bellevue), you have a trio of weapons. All three athletes showed up, worked very hard and showed they are capable of playing at a very high level.
All three saw most of their reps on the outside, while doing the dirty work across the middle.
Another Lincoln Abe target was Xzavier Weston. The versatile athlete saw time on both sides of the ball, and was about six inches from scoring on Sunday.
Tight End
With Penn and Dumas being the big outside targets, Colton Swain (Mount Si) and Isaac Garcia (Bellevue) provided size inside. Swain is one of the top TE's statewide, and is really beginning to turn some heads. His size (6'4″ 200) and overall athleticism are appealing to college coaches, as he looks to be on course for multiple offers.
Garcia used the weekend to answer some questions about his abilities on offense. While he will probably end up playing defense in college, the USC commit showed he is a very capable route runner and had multiple TD catches on the weekend.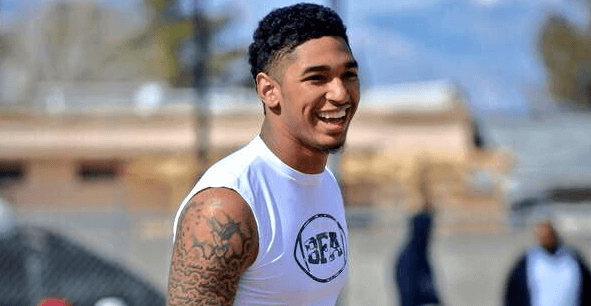 Linebackers
Jesse Beringer (Bellevue) was a big revelation in Las Vegas. He is very much under-the-radar, but stepped up his game under the big Vegas lights. Beringer was the rock of the defense, showing leadership and poise while playing against some big time athletes.
It is no secret that Joel Dublanko (Aberdeen) is a big time recruit, with multiple SEC offers. Some question what position he will play in college, so Dublanko spent the weekend showing his athleticism at linebacker. He has a huge frame, 6'3″ 250, and showed well all weekend.
Cornerback
Corner can be a very tough position in 7-on-7, especially when playing against some of the athletes you will see in Vegas. When talking to the Barton coaching staff, one name kept popping up as a top performer… Gavin Crow (Kamiakin).
Crow was on top of his game all weekend, and was every bit the lockdown corner we knew he would be. When all was said and done, Crow made a name for himself as a potential D1 athlete.
Benaiah Ellington (Bellevue) stepped up his game and really showed he is capable of big things. Ellington came away with a few picks, multiple pass breakups, and was another one of the favorites from Barton coaches.
Opposite Ellington was Isaiah Williams of Kentwood. Williams is known more for his ability as a running back, but probably does his best work defensively. Williams stepped up his game and did a great job fending off bigger receivers.
Safeties
Darien Williams (Lincoln) is one of the fastest rising athletes in the state, and was every bit the D1 player in Vegas. Williams played the Free Safety spot, which allowed him to show his athleticism and instincts. He has natural leadership abilities, and is a tireless worker. Williams has potential to be a double digit offer athlete before all is said and done.
Versatility is the name of the game for Kendal Yaegle (Central Kitsap) and Donte Hamilton (Kamiak). Yaegle played some Safety, Rover and even a little Linebacker, while Hamilton split time between Safety, Rover and Corner.
Yaegle has some of the nicest regular season film, and showed his athleticism and instincts throughout the weekend.