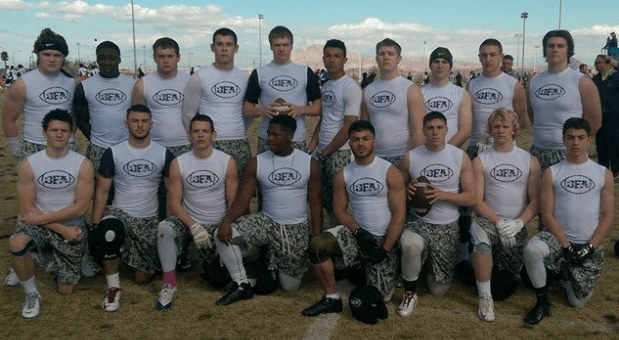 While the end results may not have been to their liking, the athletes of Barton Football Three didn't make things easy on their opponents all weekend. This team consisted of athletes from both Washington and Oregon, from differing classes.
Going 0-3 on Saturday is never a good thing, but BFA 3 woke up hungry on Sunday, winning their first elimination game 21-6. The offense clicked, but it was the defense that was most impressive, not surrendering a score until very late in the game.
Barton Football Three would eventually lose 14-6 to River City (Florida), but it wasn't without a fight, as they had a opportunity to tie the score late in the game.
Below is a breakdown of the weekend.
With an offensive MVP type weekend, Naoki Harmer ('17 Interlake) really opened some eyes. During practice leading up to the tournament, Harmer had shown some flashes of ability, but really didn't breakout until showing up in Vegas. Harmer's versatility allowed coach Mike Bush the ability to use him in a variety of ways, really setting the tone for the offense.
You may not find an athlete with harder luck in Las Vegas than Eric Kim ('16 Mercer Island). Saturday he was twice hit very hard in the air, in a tournament that is supposed to be non-contact, but still played at a high level. Kim has a tremendous ability to go up in the air and fight for the ball, and did so on a few different occasions on Sunday.
Quarterbacks Bryce Missey ('16 Bethel) and Brian Campbell ('16 Kentwood) were really the two main cogs to the Sunday turnaround. Missey was sharp all day Sunday and really elevated his game to another level. Campbell comes from a run heavy offense, so the adjustment to Vegas took a bit, but once he got going he was very good.
SPSL counterparts Branden Ingles ('16 Rogers-Puyallup) and Austin Brown ('16 Tahoma) each had nice weekend. Ingles is really starting to come on after a strong junior season, while Brown has the ability to play both sides of the ball at a high level.
Also on offense were Newport teammates Dylan Murphy ('16) and Jaron Selset ('16). Murphy is a big bodies TE that uses his body well to create mismatches, and did very well on Sunday. Sleset struggled early Saturday, but made a quick switch to defense, before coming back to the offensive side and really finding his groove.
Versatility is the name of the game for Dean Sise ('17 Juanita). The junior to be was one of the few athletes from any of the four Barton Football teams to see significant time on both sides of the ball. Sise could play any of the offensive receiver spots, and saw ample time at Safety on the weekend.
Defensively, two athletes really made a name for themselves. Gabriel Gallman ('16 Kent-Meridian) and Griffin Shea ('16 Tumwater) were about as lockdown as you can get. Gallman is a bit smaller, but plays with tremendous speed and athleticism from his corner spot. Shea is a versatile athlete with the ability to play Rover, CB, FS and even some LB if needed. Combined these two made it very tough to throw to the right side.
With Gallman and Shea locking down the right side, Zach Smith ('16 Capital) and Tushon Barquet ('16 Skyline) went to work on the left side. Smith is a versatile athlete and can play any of the DB spots. His ability on man-to-man coverage is some of the best in WA. Barquet is also good in man-to-man, and really stepped his game up on Sunday, after a sluggish start early Saturday morning.
It was a three-man rotation at Linebacker, where Caleb Weber ('17 Chiawana), James Baldwin ('16 Auburn Riverside) and Sam Chitty ('16 West Linn). Weber and Baldwin are true Inside Linebackers, that do a bulk of their work against the run, so 7on7 allows them the ability to show they can play the pass, and they did just that. Chitty has athleticism and versatility to play multiple spots and looks to be one of the better athletes in Oregon.
Along with Chitty, there were four other Oregon athletes on the BFA 3 roster, Noah Dahl ('16 Silverton), Cole Rumrill ('17 West Salem), Colin Hyatt ('16 Newberg) and Brandon Doblie ('17 Lakeridge). All three showed versatility with the ability to play multiple spots at a high level. Dahl and Hyatt are the definition of "athlete" as they can play just about any 7on7 position outside of QB, both athletes were lauded for their speed by the BFA coaches. Rumrill has good size and really did a good job managing the middle of the defense, while Doblie used his speed and athleticism to create mismatches all weekend.