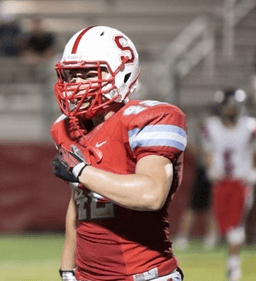 One of the top LB's returning in Oregon next season is Davis Carter (5-10 210 16′) of South Salem. The Unanimous 1st team all league and all state athlete doesn't have prototypical LB size , but is one of the hardest working and determined kids we have come across.
In 2014 he averaged 13.9 tackles per game, ranking in the top three state wide, while helping the Saxons to an undefeated regular season.
Over the course of the winter he attended every BFA Elite Event including the winter showcase, just to put his work ethic into perspective. Carter carries a 3.5 GPA and was also an all conference running back, for a team that returns do it all QB Gabe Matthews.
Speaking on the off season thus far Davis says, "Im just grateful for the opportunity to show what I can do, while competing against the best." Adding " We want to win another league title and make a run in the playoffs."
To say that Carter is driven would be an understatement. Everything that has been asked of him he has done, and then some. Regardless of what he pursues in life this is an individual that you want by your side.
You can expect Davis to be a 2015 GVC Defensive Player of the Year favorite and the foundation of this Saxon group. We will bring you updates on him and South Salem as the off season continues.