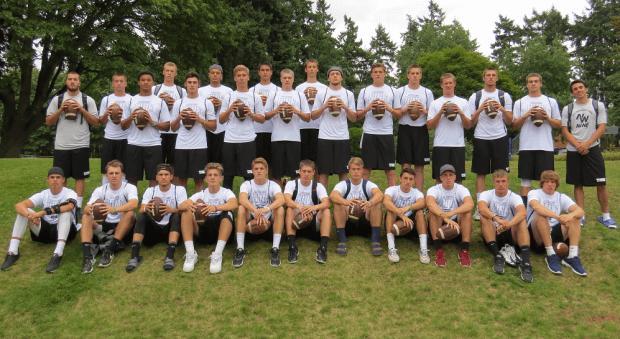 The inaugural Northwest 9 officially got underway on Wednesday, as 26 of the region's top QB's converged on Northwest University in Kirkland, Washington.
Wednesday was a light day, as the athletes got registered and settled into their rooms around 4pm. After being measured (height, weight, hand and wingspan), it was out the field where each athlete was tested in their 40, shuttle and vert.
Bellevue's Justus Rogers ('16) and Skyline's Blake Gregory finished top 5 in all three events. Rogers jumped 34.5″ in the vert, clocked a 4.22 in the shuttle, and finished off with a 4.91 in the 40-yard dash. Gregory finished with a 34.5″ in the vertical, 4.25 shuttle and a 5.03 40-yard.
Tavin Montgomery ('16) of Juanita High School finished with a 4.83, laser time, 40 yard dash, taking home top honors. Montgomery also clocked a 4.25 shuttle and a 34″ jump in the vert. Montgomery finished .5″ away from being top 5 in each event, all-in-all it was a great start for an athlete coming off a pretty serious knee injury.
Just behind Montgomery was Wyatt Hutchinson ('16) of Clackamas High School in Oregon, who finished with a 4.85 40-yard dash. Rounding out the top 5 were Justus Rogers, Liam Fitzgerald ('16 Camas) with a 5.01, and Blake Gregory.
When you consider the 40-yard dash was held on a soft grass surface, these times are much better than you would expect.
Bethel's Bryce Missey ('16) clocked a 4.19 shuttle, the fastest on the day. Not far behind Missey was Brian Campbell ('16 Kentwood) who finished second with a 4.22. Rounding out the top times, with a 4.28, was Bothell's Jacob Sirmon ('18).
The vertical jump is always one of the more entertaining events to watch, as some young men really have that explosion needed to put up some good numbers.
Liam Fitzgerald was the first up, and set the bar high with a 39.5″ jump, that would not be matched on the day. That jump would've actually been good enough for a top 10 finish at Nike's The Opening.
Closest to Fitzgerald was Brian Campbell with a 37.5″ jump, followed by Amandre Williams ('16 Tahoma) with a 36″ jump, while Justus Rogers, Blake Gregory and Nick Swanson ('16 Redmond) finished off the top five with a 34.5″ tie.
Following the testing session, the athletes made way to the cafeteria for a chicken, potato and vegetable dinner, topped off with plenty of ice cream to go around.
After dinner, the athletes hit the classroom where former Washington State University QB Alex Brink installed the NW9 Playbook. The two-hour session went over everything the QB's need to know about each play, from one of the best in the business.
Thursday morning will start with a private QB workout, and later in the day select WR/DB's from around the region will visit to help run routes and participate in 7-on-7. If you wish to participate in the event as a WR/DB, contact me at Ringerland@gmail.com and I will get you set up.