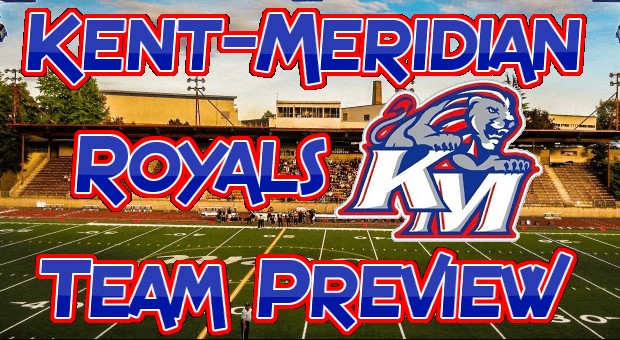 Key Players
QB Ben Woods (5'11, 175, '16) – Woods might not be the prototypical size you are looking for in a signal-caller, but he's a big-time player. He finished the 2014 season completing nearly 61% of his passes for 1,940 yards with 17 touchdowns and 17 interceptions. If he can cut down on his interceptions, he should be able to lead KM to the state playoffs this fall.
WR/LB Emmanuel Daigbe (6'0, 185, '16) – Daigbe may be, pound-for-pound, the best athlete in the state. He's got outstanding hands, great body control and he shows great aggressiveness when the ball is in the air. As good as he is at receiver, he may be an even better defender with his physical style of play and athleticism.
RB/CB Malik Woolery (5'8, 160, '16) – Woolery is a flat-out playmaker. He can run with the ball really well, but that isn't it. He's also a very good receiver out of the backfield and he'll start at one of the safety spots in the secondary.
OL/LB Noah Franquez (5'10, 200, '16) – Franquez will handle the pivot along the offensive line. Even though he's not very big, he might be the toughest of the group and he's a returning All-SPSL player from last season.
RB/DB Gabriel Gallman (5'8, 195) – Looking for standout two-way players? Gallman fits that model perfectly. He'll be the backup at tailback, but with the type of offense KM runs, he'll get his hands on the ball plenty of times this season. Then throw in that he was an All-SPSL Honorable Mention selection at corner and you have the makings of a big-time contributor on both sides of the ball.
Overview
Kent Meridian, who for years was an also ran in the SPSL, is no longer the "bye week" they used to be and head coach Brett Allen and his staff have a lot of pieces to work with this coming season as they return 11 starters (seven offense/four defense) from a team that went 6-4 last fall.
"We are pretty excited about where we are right now," Allen told Northwest Elite Index. "We have a good group of seniors returning and a lot of experienced and productive talent returning and that will be huge for us this season."
Returning to lead the offensive attack is senior QB Ben Woods (5'11, 175). As a junior last fall, Woods completed over 60% of his passes for nearly 2,000 yards with 17 touchdowns. The hope is he can cut down on his turnovers (17 interceptions last season) and keep things rolling offensively.
At tailback, seniors Malik Woolery (5'8, 160) and Gabriel Gallman (5'8, 175) will lead the way. Woolery is lightning-in-a-bottle, very fast and "tough as nails" according to Allen.
"He might be the strongest guy on our team, pound-for-pound," Allen noted. "He's a really hard worker and he can do a lot of things on the field to help us this fall."
Senior Emmanuel Daigbe (6'0, 185) is a game-breaker who can make plays from almost anywhere on the field. Using his outstanding combination of size and speed, Daigbe led KM with 40 receptions for 716 yards and nine touchdowns.
Joining Daigbe will be Marc Dennis once he gets back on the field after the first five weeks.
With Daigbe and Dennis, the Royals will have one of the best one-two punches in the region.
The offensive line is in good shape with the leadership of three seniors — Noah Franquez (5'10, 200), Peter Dalit (5'9, 220) and Marquise Card-Diallo (5'11, 275) — and an emerging junior by the name of Zeke Cordova (6'1, 245) who the coaches are very high on.
Defensively, Cordova and Wright will be the defensive ends while Card-Diallo will be inside at the nose tackle spot in Kent-Meridian's 3-4 scheme.
Daigbe will be one of the outside linebackers while Franquez will handle one of the inside spots.
The other spots will be manned by senior Tristan Ingold (5'11, 185) and junior Jeremiah Williams (5'9, 200).
Woolery and Dennis lock things down outside at corner while Galllman will handle safety duties, using his good speed and instincts to be a playmaker in the deep patrol.
The Bottom Line: The Royals could have one of the best trios in the state in Woods, Woolery and Daigbe. With that type of talent returning, there's no reason they shouldn't make it into the round of 32 in the state playoffs and once you get there, anything can happen.
Key Games
@ Auburn (9/11)
Vs. Tahoma (10/9)
Vs. Kentwood (10/16)