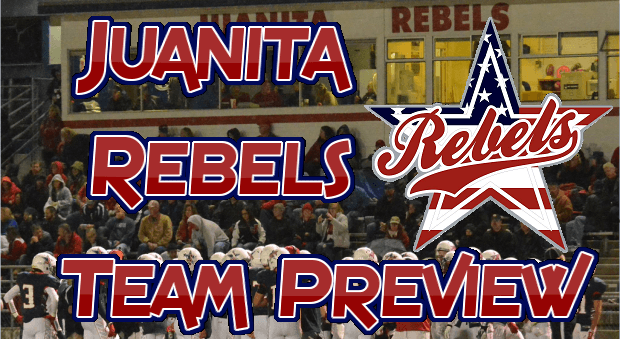 Key Players
QB/S Tavin Montgomery (6'0″ 175, '16) – Montgomery looks to be at full strength after missing most of last season to injury. When his game is on, he is a dynamic dual-threat with a knack for making spectacular plays. He has started since his freshman season, and looks more prepared than ever to attack a season.
RB/CB Salvon Ahmed (5'10" 185, '17) – Ahmed has offers from the likes of Stanford, USC and Oregon, and is just entering his junior season. He has gamebreaker speed and is a threat to take it to the house on any offensive play. Defensively he is one of the better DB's in the state, with fluid hips and great ball skills.
WR/S Makiah Gilmer (6'1″ 180, '16) – We've been talking about Gilmer for a few years now and he still has his best days ahead of him. He is a hard hitting game changer on defense, and is vastly underrated as a wide receiver. Gilmer has a great frame and tremendous all-around athleticism.
WR/CB Dylan Moctezuma (5'10" 160, '16) – Moctezuma has flown under the radar the past few season's and is ready to breakout. He will see time offensively as a sweeper, where he uses his speed to make plays and keep opposing defenses honest. Defensively he has shutdown abilities at corner and is an opportunist to make big plays.
WR/S A.J. Peacocke (6'0″ 170, '16) – Peacocke transfers over from rival Inglemoor where he was voted 2nd team All-Kingco in 2014. He has good ball skills, plays with a fire. Peacocke's arrival also means Montgomery will not be asked to play as much, if at all, in the defensive secondary.
Overview
When former head coach Shaun Tarantola left for Texas, the Juanita decision makers didn't look far for his replacement, as they promoted from within by hiring Lele Te'o.
The Rebels have had a few underwhelming seasons, mostly due to injury, but look to be back on track and primed for a big year. They wont leave the city limits of Kirkland for the first six weeks of the season, as their only game away from home is against cross-town rival Lake Washington.
With senior Tavin Montgomery at the helm, the Rebels have experience and leadership at the most important position on the field. Montgomery finished 5th in the inaugural Northwest 9, and looks primed for a big year. The Rebels have one of the better backup QB's in the state, as junior Dexter Mell (6'1″ 190) has started in the past and seen plenty of playing time.
Juanita has speed all across the board, and it starts in the backfield with Salvon Ahmed. We let you know about him after his unreal 8th grade highlight video, and he has lived up to the hype thus far. This could be a huge season for Ahmed as he will now be the full time feature back for the Rebels. If the Rebels want to give Ahmed a break, look for Kieran Jones (5'10" 160, '17) to get the call.
Sweeper is a position most teams do not use, but Juanita likes to have a man in motion on virtually every offensive play. Dylan Moctezuma, A.J. Peacocke and Dean Sise (6'2″ 185, '17). Sise is a payer we really like, and he should see added playing time this year, after a tremendous offseason.
Look for Makiah Gilmer and Sam Rice (5'10" 170, '17) on the outside at receiver, while Christian Blackburn (6'2″ 190, '17) and Nick Rhodes (6'1″ 190, '16) make an impart at tight end.
The offensive line has a good mixture of experience and youth, with plenty of talent across the board. Alex Camilleri (6'0″ 205, '16) is considered the anchor up front and started as a freshman. Camilleri is undersized, but is a tough customer and gets the job done.
Cade Totten (6'1″ 200, '16) and Chris Corona (6'0″ 260, '16) bring a great work ethic and lead by example, which is exactly what you want from your seniors. Junior Romey Sasouvong and senior Jaspreet Singh give the Rebels depth along the line, which will help ease in Jaoa Nascimento (6'1″ 290, '18) and Palmer Sumner (6'7″ 305, '18), who will see plenty of action this season.
With plenty of depth on offense, the Rebels will be able to go both ways defensively. Corona and Nascimento look to start on the DL, where they will be joined by Rhodes and Blackburn.
Juanita looks to have the most depth at linebacker, where they can comfortably go six deep. GJ Hurst (5'8″ 185, '16) is one of the best all-around athletes on the team, and one of the best outfielders in the state when playing baseball. Dean Sise brings speed and a little bit of crazy you like in your LB's. Jaspreet Singh make a commitment to the weight room and may be the team's most improved player.
Seniors Germain Madden (5'8″ 160) and Tristan Morgan (5'8″ 160) provide toughness and add to the overall depth of the position. Also look for Kieran Jones to receive reps, as he looks to be an integral part of the future.
The defensive secondary at Juanita is fast and very talented. Ahmed and Gilmer are real deal D1 prospects, with FBS offers. Moctezuma plays hard, fast and is sound in his technique. A.J. Peacocke is as bog of a transfer as you will see this season and should fit right in with the Juanita defensive philosophy. Toss in Tavin Montgomery when needed, and you have a secondary with as much talent as any in the state.
Brighten Maughan ('18) and Sam Rice provide depth at corner and safety, and are names you will want to remember.
Jackson Clemenson ('16) is one of the better kicking prospects in the state, with a strong leg and good accuracy. He holds most of the Juanita kicking records and has been the go-to-guy since his sophomore season.
Bottom Line: Juanita will once again start the season in the top 10 and have the talent to go a long ways, but will need to stay healthy at the top. They will have to capitalize on the early season home cooking to set themselves up for a playoff spot.
Top Games
vs Mercer Island (9/25)
vs Bellevue (10/9)
@ Liberty (10/23)