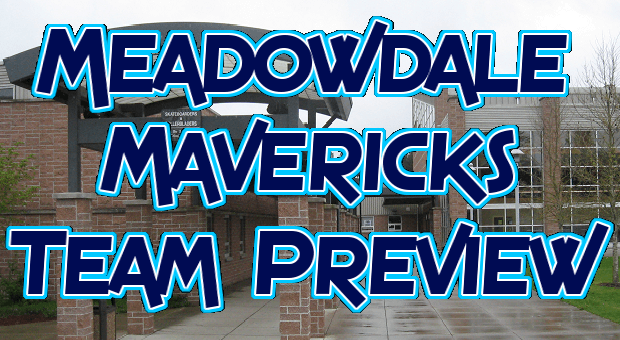 Key Players
OLB/RB Kela Marshall (5'10, 185, '17) – Marshall is a talented two-way player who is a leader on both sides of the ball. The junior will be the main cog in the running game while also being the key to the Mavericks' defense.
QB Drew Tingstad (6'2, 205, '17) – Tingstad's older brother handled quarterback duties the past few years and the transition to Drew should be smooth. Tingstad is accurate, he makes good decisions and should be a real asset to the Maverick offense this fall.
OL/DL C.J. Lewis (5'9, 220, '16) – Lewis will impact the Mavericks on both sides of the ball. He's Meadowdale's best defensive lineman and their second-best offensive lineman and he'll be counted on to be a leader at both spots. The senior two-way lineman was named a team captain for the season.
LB Tyler Ruby (5'9, 190, '16) – The coaches consider Ruby to be the "heart and soul" of their defense. He makes all of the defensive calls and he makes plays all over the field. Ruby was named a captain for his senior season.
WR Harry White (6'3, 180, '17) – Every offense needs that "go to" receiver and White is definitely that player for Meadowdale. He's got a long, angular frame and with his outstanding athleticism and explosiveness (he placed in state in the 100 and 300 hurdles), White can win almost any jump ball. White was named a captain for his senior season.
Overview
The Matt Leonard era at Meadowdale gets off to a start this fall and he's got some impressive skill position players to work with, but the team is young at some important positions and how those components come together will determine how far the Mavericks can go.
QB Caleb Tingstad wrapped up his high school career leading Meadowdale to an 8-3 season, but there will still be a Tingstad at the controls of the Maverick offensive attack as younger sibling Drew Tingstad (6'2, 205) will be at the helm.
Tingstad, a junior, has a very good arm, is super accurate and the coaches think he can be a playmaker from the quarterback position.
When they want to pass, Tingstad's top target will be senior wideout Harry White (6'3, 180) who has a huge catch radius with his outstanding size and explosiveness.
Seniors Nick Chavez (5'8, 160) and Jesse Navlet (6'0, 180) will also be counted on as playmakers outside while junior tight end Zach Plummer (6'2, 185) is a smart route-runner and good blocker on the edge.
At tailback, Kela Marshall (5'10, 185) will get the majority of the carries. He's a strong and a workhorse.
Along the offensive line, senior Bailey Walsh (6'0, 210) will handle left tackle duties and, because he's such a vocal leader, he was named a team captain.
Seniors C.J. Lewis (5'9, 220) and Lucas Hummel (6'2, 250) will handle the guard spots while juniors Bryce Chapman (6'2, 285) and Ismail Munos (6'0, 190) will handle center and right tackle respectively.
Along the defensive line, Lewis leads the way with his tenacious style from one of the defensive end spots.
The other defensive end will be junior Markus Ward (6'1, 200) and the nose tackle spot will be handled by another junior, Levi Elkins (6'2, 240), who is still pretty raw, but the coaches feel he can eventually turn into a really tough player in the middle of the defense.
Marshall will hold down one of the most important spots on the defense, the weakside outside linebacker position, and he'll be counted on to be a big-time playmaker at that spot.
Senior Tyler Ruby (5'9, 190) makes all of the defensive calls and adjustments from his middle linebacker spot while senior Isaiah Richards (5'9, 210) is a hard-hitter that brings a physicality to the Mavericks' defense.
The other outside linebacker spot will be manned by Brady Miller (6'1, 185) a versatile junior who can play multiple positions depending on the matchup.
The secondary has plenty of talent and experience and they should make things tough on opposing passers.
Senior Nick Navlet (6'2, 160) will handle the free safety position while fellow senior Dakota Ralls (6'0, 160) brings a physical style to the strong safety spot.
The corners will be held down by senior Tyree Carson (6'0, 170) and junior Haelin Robers (5'8, 160). In addition to his outstanding cover skills, Carson is also a very good return man and he will make his presence felt in that capacity as well.
The Bottom Line: The Mavericks have enough talent to make it to the state playoffs, but with a loaded WESCO 3A division, they could wind up falling short if their young players don't develop on time. The first month of the season will play a huge role in how far Meadowdale can go with games against Glacier Peak, Edmonds-Woodway and Montlake Terrace as well as a non-conference game versus Lake Stevens. If they can weather that storm, there's no reason to think they can't make it to the round of 32.
Key Games
@ Mountlake Terrace (9/11)
@ Edmonds-Woodway (9/18)
Vs. Glacier Peak (9/25)