Click for AJ Ruffin Highlights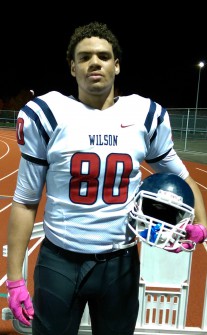 Wilson (Tacoma, Wash.) High School has produced some big time talent over the years, and senior AJ Ruffin could very well be the next in line.
The 6-foot-5, 250 pounder has legitimate interest on both sides, and currently holds offers from the University of Wyoming, Idaho and Portland State. Ruffin's personal interest had been on offense at tight end, until early this season when his talent on the defensive line really started to shine.
"As the season has season has progressed my interest has gone from offense to defense," Ruffin said, following a 17-16 win over Capital. "At the end of the day, I will play whatever they need me to play."
Ruffin has the ability to play TE, but probably best projects to the DL. His frame could easily add 30+ pounds to bulk up for the interior of the DL, or he could put himself in a position to be a DE with the right work.
Right now his only official visit is to Wyoming, but that will not take place until the end of the season. Ruffin has taken a few unofficial visits and has received game tickets to schools throughout the northwest.
There is no hurry on Ruffin's end to make a collegiate decision, as he currently plans on waiting until the season is over before making his commitment.
"I am just waiting to see what all my options are," Ruffin said. "I'm also hearing from Washington, Oregon, Nebraska and Missouri, so I want to see where that goes."
I truly believe Ruffin's best days are ahead of him, as he is still very raw and has the right frame of mind to reach his potential.
Wilson is 3-3 after last week's win, and are currently on a three game winning streak. Right now they sit 3-1 in Narrows 3A play and control their own destiny as far as the playoffs are concerned.
We will keep you updated on Ruffin and the Rams as the season progresses.