Click for Ben Peterson Highlights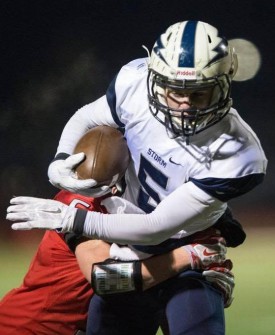 A surprise team in the 2A ranks within the state of Washington is Squalicum (Bellingham) and one of the top players on the 7-0 Storm is 2017 S/WR Ben Peterson.
"I can play both ways and I do for us, but I see myself as more of an offensive player," the 5'10", 170-pounder told Northwest Elite Index. " I feel really confident in my route-running and my quickness. I'm also aggressive and I have a good feel for the game I think that helps me out a lot."
So far this season, Peterson has hauled in 17 receptions for over 350 yards and nine touchdowns while rushing for close to 200 yards on just 11 carries and he also has racked up close to 30 tackles on defense.
"I basically don't leave the field much," Peterson added. "I also am our kicker and punter and I return punts and kicks as well."
What is most impressive about Peterson is that he's been a starter since the third game of his freshman season and he was an All-League performer last season at receiver, hauling in 59 receptions for 851 yards and 12 touchdowns.
"I was a co-captain as a sophomore and then this year I am a captain," Peterson noted. "I enjoy the responsibility that comes with that and I take it very seriously. My teammates and coaches look to me to be a leader and I do that to the best of my abilities.
"Part of my job is the make sure my guys come out ready to play and we're ready to go from the start of the game and all the way until the end."
On the recruiting front, schools have just started to take notice of the multi-dimensional athlete since the summer, but so far, things are just in the "getting to know you" stage.
"I went to Washington's Rising Stars camp and I talked to coach (Brent) Pease while I was there," Peterson said. "I've gotten the most stuff from Washington and Penn, but several others have sent me letters and stuff like that."
Friday, Peterson and the rest of his teammates take on Blaine in the second to last game of the regular season.