Click for Dexter Carter Highlights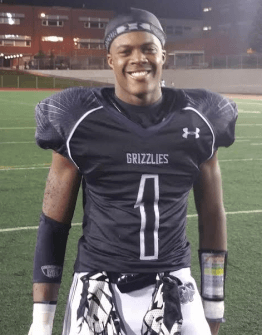 Glacier Peak (Snohomish) currently is 6-1 and poised to make a run in the 3A state playoffs. One of the leaders of the team is RB/DB Dexter Carter, a senior who is having a big season.
Carter leads the way from his running back position, posting a team-leading 534 yards and eight touchdowns on just 87 carries.
While he's been super-productive on the field, it's his leadership skills that really have made people stand up and take notice.
"I'm one of the team captains and that means a lot to me," Cater told Northwest Elite Index recently. "I feel like as a captain, it's my job to keep the team together because football is a team sport. I also feel like my job as a team captain is that I should hold myself to a higher standard outside of football, that I'm making the right decisions, that I'm performing in the classroom, that I'm setting a good example for the underclass men and so forth. So being a captain is a great honor for me and it means a lot to me."
At 5'9", 180 pounds, Carter runs the ball with a lot of purpose, surprising some with his physicality.
"I am a very physical runner. I like to deliver the blow more so than take it," Carter noted. "I feel like my vision is pretty good and that my speed and quickness gives me the ability to make people miss and outrun them as well."
On the recruiting front, Carter has had steady contact with several schools and one local program has actually started to pick up their interest as well.
"I have been hearing from Eastern Washington, BYU, Wyoming and just recently Washington," Carter said."I don't have any offers yet, but I did just go down to Washington's game with Oregon and that was a lot of fun.
"My coach said just to keep working hard and be patient and things will happen.
"I can see myself playing running back in college, but knowing myself and college coaches, I think they'll probably use me as more of a DB because of my frame and build," Carter acknowledged. "I don't really have a preference, but if I had to choose one, I'd probably say running back/slot just because that's what I'm most comfortable with.
"I haven't really played a lot of DB during my career to know for sure, but whatever I have to do to contribute, I'll do it."
With his athleticism and competitive nature, Carter could be an asset on either side of the ball once he gets to college. He might actually be one of the most underrated players in the state and he could be a real gem if a school decides to take a chance on him.