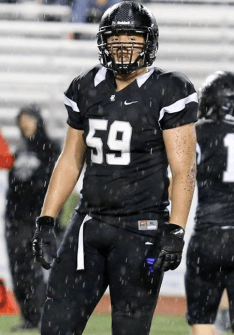 His team just finished up what was a remarkable run into the state playoffs, but now that his season is over, junior Bonney Lake DL Caleb Davis is ready to turn his sights to what he hopes will be a big senior season.
"We had a good season, but we didn't finish like we would have liked," Davis said after his team's 42-7 loss to top-ranked Eastside Catholic on Friday night. "They are a really good team, really talented, so they are going to be tough for anyone to beat."
On thing that stood out during Bonney Lake's game against the defending state champs was the fact that Davis played most of the game in the Crusaders' backfield, sacking senior QB Harley Kirsch twice and also notching three tackles-for-loss and four tackles on the night.
"With my size and aggressiveness, I'm more of a defensive player," Davis, who plays right tackle on offense and defensive tackle on defense, said. "I like to rush the quarterback and get after guys up front. I love to play the game and I love to compete hard all of the time."
Recruiting has yet to really get started for the 6'4″, 250-pounder, but he has gotten the chance to attend a couple of Husky games.
"Honestly, no one has really been talking to me yet, but I have gotten some tickets to the (Washington) Husky games," Davis said. "I actually went to their Rising Stars camp back in June and I did the Steve Gervais camp down at Evergreen State College (in Olympia).
"Since our season just ended, I am not really sure which camps I will hit this spring and summer, but I will start to look at that real soon and start figuring out where I will go."
In addition to his abilities on the gridiron, Davis also throws shot and discus for the track team, but he won't only be focused on those workouts.
"I will be in the weight room a lot because I want to get stronger," Davis noted. "I also need to work on staying lower and work on my hand-fighting, so there's a lot for me to still work on."
NEI will continue to keep track of Davis through the recruiting process and we will update news on him as it happens down the road.