Click for Caleb Brown Highlights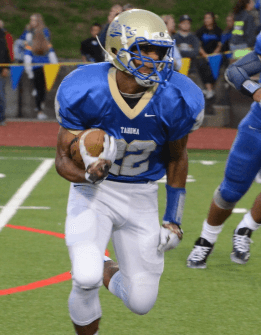 Great news out of Maple Valley where Tahoma's Caleb Brown has been offered by Idaho State University.
This is the first offer for the highly skilled two-way athlete, who is very happy to be on the receiving end.
"Super relieved," Brown told NEI. "My family couldn't save any money for college so I had to figure out how to pay for it. So this is big because I know I can go to school.
"Plus I get to play what I love, which is corner."
Idaho State first contacted Brown in early October, and it has been a slow process leading to today's offer.
"Coach [Sheldon] Cross, the offensive coordinator, called me," Brown said. "(He) asked if I 'wanted an offer from Idaho State'. I was like yeah definitely he said 'well you got a full ride, congratulations'.
"Then he said stuff about getting an official visit set up and a home visit next week and said we'll talk later."
Brown has yet to visit Idaho State, but is in the process of making plans.
He is also hearing from the likes of San Diego State, Army, Portland State and Central Washington.
Give props to the Idaho State coaching staff for identifying Brown's talent. The Bengal coaching staff has been very active in Washington the last few weeks, with Sheldon Cross all over Western Washington and OL coach Matt Troxel covering the eastern side of the state.
We will keep you updated on Brown when news becomes available.