Click for Marlon Tuipulotu Highlights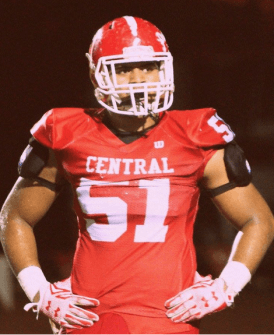 A rising star in the 2017 class out of the state of Oregon is Central (Independence, Or.) DL Marlon Tuipulotu, a 6'2″, 270 pounder, who already has offers from six schools and more could be on the way.
"I have offers right now from Washington, Oregon State, Oregon, Washington State, Boise State and BYU," Tuipulotu told Northwest Elite Index recently. "Cal has been talking to me a lot and so has Utah. Both of them seem like they could be pretty close to offering, but they haven't offered me yet.
"Notre Dame and Michigan have also been contacting me a lot and a few more schools have started picking things up too, so it's been pretty steadily picking up for me."
Tuipulotu took unofficial visits to Washington, Oregon and Oregon State during the season to check out the gameday experiences and also to get a feel for each program.
"I really liked my visits to those schools," Tuipulotu said. "The games were fun to watch and it was a good time to see how the gameday atmosphere feels and also to see the coaches and how they coach."
As a junior this past season, Tuipulotu played both ways for Independence, fitting in as a guard along the offensive line and playing both end and tackle on the defensive side of the ball.
"I just like playing football and competing, so I enjoyed both of them, but as far as what I like to do the most, that's easy — defense," Tuipulotu noted. "I have good hands and I'm quick for a guy my size and I just love to hit and be physical at the point of attack."
This offseason, Tuipulotu says he's working on every aspect of his game, but he will focus on some of the finer points of playing his position to become an even more dominant force as a senior.
"I'm goint to work on my feet and explosiveness a lot this offseason," Tuipulotu said. "I also want to keep my pad-level lower, so that's a lot of lower-body work and stuff like that. Honestly, I need to work on everything because I feel like I can get better in every area of my game."
Tuipulotu is a very intriguing prospect and one to keep an eye on as he works his way through the recruiting process over the next year. At his size and with his quickness and good feet, he can play almost anywhere along the defensive line, but he looks like he could be a great fit as a five or a seven technique, depending on what sort of defensive front the program he chooses decides to run.
NEI will keep tabs on Tuipulotu over the next few months and we will update news on him as it breaks.