Click for Bryce Helgeson Highlights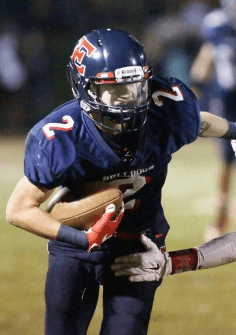 After what turned out to be a very good junior season, Ellensburg (Wa.) ATH Bryce Helgeson received All-State honorable mention honors from the Associated Press and he's one of the top multi-purpose players in the state heading into the 2017 recruiting cycle.
Helgeson was a two-way star for the 11-1 Bulldogs last season, finishing with 55 receptions for a little over 950 yards and 12 touchdowns on offense while posting over 40 tackles and five interceptions on defense.
"If I had to choose one or the other, I would say I probably prefer offense a little more," Helgeson told Northwest Elite Index recently. "Honestly, I love playing both of them, but I've probably had more success playing wide receiver.
"I love competing. I want the ball and I go get the ball and I want to help my team out in any way that I can."
On the recruiting front, things have just barely gotten underway for the 6'2″, 160-pounder.
"I haven't really heard from anyone yet," Helgeson said. "I didn't hit any camps last year, so this spring and summer I am looking at hitting several, but I just haven't figured out which ones because I play basketball and baseball, so I have a pretty full schedule."
With his sinewy frame and long arms, Helgeson looks more like a basketball player when you see him step onto the field, but then when you get a look at his aggressive style of play, his soft hands and his natural football instincts, you can see a player who could be an asset on either side of the ball.
We'll have more on Helgeson in the coming weeks and months as he truly gets the recruiting cycle underway and we will report any news on him as it breaks.