Click for Jesus Echevarria Highlights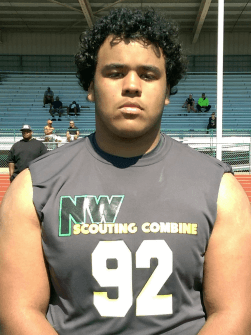 It's a bit of a down year for big-time interior defensive linemen in the state of Washington this year, but one that has started to draw a lot of attention is 2017 Archbishop Murphy (Everett, Wa.) DT Jesus Echevarria.
"I just got an offer from Montana State," Echevarria told Northwest Elite Index. "They came by my school and said that they think I'm a great kid and they liked my film and how I've been doing in the classroom."
Besides the Bobcats, Echevarria has also been talking to Utah, Utah State, Washington, Portland State and UTEP.
"A lot of the schools said they like me and how I move for a guy my size, but they said they want to see me at camp, so I'm working on getting to some of those this month," Echevarria said. "I'm definitely planning on going to Boise State and Washington State's camps in June. I'm also heading down to Portland for the Northwest Best Showcase and I'm planning to go to Central Washington's camp with my team and Washington's Rising Stars camp in July."
As a junior last season, the 6'2″, 320-pounder posted 27 tackles, seven tackles-for-loss and 2.5 sacks from his defensive tackle spot.
"I played as a nose tackle and as a three-tech. A lot of it just depended on who we were playing and what they did best," Echevarria said. "I'm really good at collapsing the pocket and I use my strength and quickness to get the advantage on the offensive lineman across from me.
"This offseason, I've been really focused on using my hands better. I want to hand-fight better and keep guys from locking onto me so that I can make more plays."
As far as when a decision could be coming, Echevarria said he's expecting to wait and take all of his official visits.
"I want to give other schools the chance to see me and recruit me," Echevarria said. "I'm not in a rush yet."
We'll have more on Echevarria in the coming weeks and months and we'll update news on him as it happens.