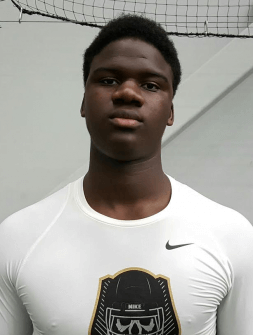 One of the fastest rising 2017 prospects in the state of Washington if not the entire Pacific Northwest is Edmonds-Woodway (Edmonds, Wa.) DL Ali Gaye and he has the list of suitors to prove it.
"I am up to 10 offers now," Gaye told Northwest Elite Index. "I have offers from Idaho, Wyoming, Washington State, Colorado State, Cal, Oregon State, Fresno State, Hawaii Arizona and Arizona State and USC is talking to me a lot, but they haven't offered yet.
"Of those schools, the ones sticking out the most right now are Cal, Arizona and Arizona State and Washington State a little bit."
Gaye took part in the Seattle Opening Regional and he'll be heading out no the road to participate in a couple of camps later this month.
"I was hoping to go to the Northwest Elite Camp (on Friday), but with our spring ball starting, I am not sure if I will make it," Gaye noted. "I'm planning to hit a couple of out-of-state schools, probably Arizona and Arizona State and possibly Cal, for camps and maybe Washington State's camp, but I haven't really scheduled anything or signed up yet."
This past season, Gaye played on both sides of the ball for the Warriors, but it was on defense that he had his biggest impact, posting 50 tackles and eight sacks, a noticeable jump from his sophomore season when he posted close to 40 tackles and three sacks.
"I feel like I played much better this past season, but I still have a lot of things I need to improve on," Gaye told Northwest Elite Index recently. "One of the main things I need to do is get back in the weight room and get stronger and faster.
"I also need to work on the little things, like how I use my hands and some of my techniques, so that I can be that much better as a senior."
At 6'6″ and nearly 260 pounds, Gaye is a long-levered athlete with enough size and athleticism to be a standout at the highest level of college football as long as he continues to develop his overall skills and technique.