Click for Dawson Jaramillo Highlights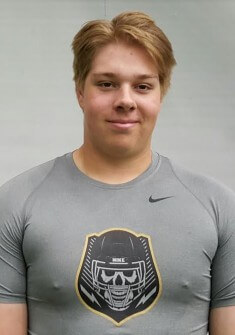 2018 Lake Oswego (Or.) OL Dawson Jaramillo is a prospect drawing the attention of several schools early in the recruiting process.
Jaramillo played both ways for Lakers, but the 6'5″, 280-pounder made his biggest impact on the offensive side of the ball.
"I handled left tackle on offense," Jaramillo told Northwest Elite Index while taking part in a recent camp. "I have decent feet because I play basketball, so I feel like I am at my best in pass-protection and this offseason I have been lifting almost every day, so I am focused on getting stronger and getting quicker as well.
"I also need to be more aggressive than I already am and that is something my coaches have been preaching to me."
So far, recruiting is merely in its infancy for Jaramillo, but he has been talking to a few schools although none have offered at this point.
"This spring, Cal, Oregon, Oregon State, UCLA, Notre Dame, Stanford and Washington all came by my school," Jaramillo said. "I actually attended Washington's Junior Day back in April and I had a great time there meeting with the coaches and I'm planning on going back up there for their camp in July.
"The other camps I want to attend are Oregon and Oregon State's camps, Stanford's camp and probably Cal too since I will be down there.
"Most of the coaches have said they want to see me in person, meet with me, get me into camp and see how I move so they can evaluate me better."
With his natural size and athleticism, Jaramillo is a prospect who should be one of the top linemen in the region by the time he's a senior. Expect to hear more about him in the coming months and it's not out of the realm of possibility for him to have several offers in hand before next spring.