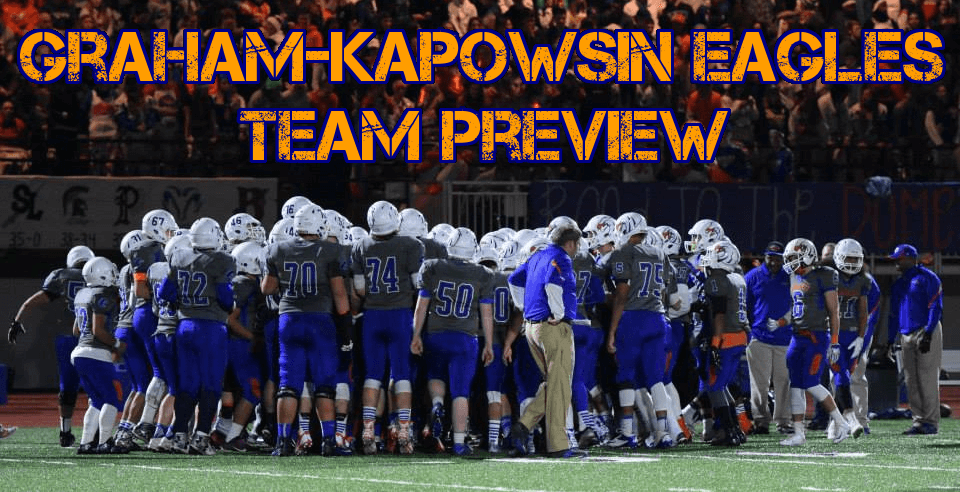 Key Players
OL/DL Foster Sarell (6'7″, 305, '17) – Since he stepped on the field back in 2013, people have been talking about Sarell as possibly the best overall prospect to ever come out of the state. He's long, he's athletic and most recruiting networks have him rated as the top offensive line target in the country. We're not going to argue. He's just that good.
QB Dylan Morris (6'1″, 185, '19) – Morris started the entire season as a freshman and he's only getting better. The talented sophomore has a strong arm, great mechanics, outstanding leadership skills and more athleticism than he showed last season due to the fact that the Eagles had no one behind him so the coaches told him not to run.
LB/RB Viliami Hansen (5'10", 210, '18) – A returning All-League performer, Hanson is in the middle of GKs defense and he's looked at as a leader from that position.
LB Brandon Becker (5'9″, 210, '17) – Another returning All-League selection, Becker is a heady player that plays a physical brand of football.
OL Matt Shook (6'4″, 270, '17) – Shook handles the right tackle spot opposite Sarell and he gets a ton of stunts and blitzes thrown his way because few teams challenge Sarell much. Shook has good feet and has really improved his strength and he'll be a leader along the offensive line this fall.
Overview
Head coach Eric Kurle is in the enviable position of having a lot of talent and experience at his disposal.
Returning after a solid freshman season is quarterback Dylan Morris (6'1″, 185, '19), a young man with the moxie and athleticism to be one of the top signal-callers in the state for the next three years. He has a strong arm, can make all the throws and his leadership will be a huge key this fall.
When he drops back to pass, Morris will have several targets at his disposal.
Junior Jeremiah Kekoa (6'0″, 185, '18) is a physical receiver with great quickness and hands while senior Eian Olmos (6'1″, 200, '17) is a steady performer with soft hands and the ability to get open on regular basis.
Throw in TE Tyler Wheeler (6'0″, 210) and the Morris will have plenty of options on a down-to-down basis.
While the Eagles' passing attack should be one of the best in the state, make no mistake, they should be able to run the ball and leading the way in the backfield is junior Micah Smith (6'0″, 190, '18) who missed the entire 2015 season due to a knee injury. He's back to 100% health and he has looked outstanding in offseason work, so the expectation is he could top 1,000 yards as long as he stays healthy.
Helping the Graham Kapowsin offensive cause is an experienced and very talented line that should be able to keep Morris upright while opening holes for Smith and the other tailbacks.
Foster Sarell (6'7″, 305, '17) is as good a linemen as there has ever been in the state. He's equally good as a pass-blocker and run-blocker and he's the cornerstone that the Eagles' offense is built around.
Senior center Ian Kurle (5'11, 230, '17) is a smart player who really grinds while Matt Shook (6'4″, 270, '17) is under-appreciated due to how good Sarell is.
A youngster to keep an eye on is Ethan Porter (6'2″, 275, '19) who the coaches think could be the next big thing along the line once Sarell is gone.
Keep an eye on senior Beau Blowers (6'2, 220, '17) who makes the move from tight end, where he was an All-League selection, to the offensive line where his athleticism will really be an asset.
When the Eagles are on defense, they will rely on an outstanding front seven to really make things difficult on opposing offenses.
Sarell and Shook will see time along the defensive front, but the stalwarts there are Riley Hamilton (6'2, 240, '17) and Jeramey Thesenvitz (6'3″, 235), both of whom play the run well and can get some pressure on the quarterback.
Linebackers Viliami Hansen (5'10", 210, '18) and Brandon Becker (5'9″, 210, '17) lead the way at linebacker and both are returning All-SPSL performers from last season.
In the secondary, the safeties are Kobee Henson (5'10", 170, '17) and Wheeler with Smith also seeing time there, while Kekoa, Zach Smith (5'10", 170, '17) and Kesai Childress (5'10", 170, '18) are the top three corners.
The Bottom Line: The Eagles are poised for a nice stretch here where they should be favorites to head to Tacoma the first week of December for the foreseeable future. Kurle is a solid coach who demands excellence from his players both on and off the field. With their mix of youth and experience to go along with the immense talent of players like Sarell and Morris, this could be the year that Graham Kapowsin breaks through and gets a championship. Anything less than a bid in the championship game this season would have to be seen as a disappointment.
Key Games
@ Sumner (9/23)
@ Olympia (10/14)
Vs. Bellarmine Prep (10/21)