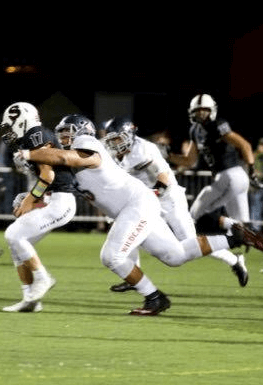 When we saw 2017 OL/DL Brandon Pili at a camp this summer, he was still planning play his senior season in Anchorage, Alaska, but a family situation forced a move to the Portland area and now he's starting a playing well for Westview and he recently earned his first offer.
"Oregon State just offered me," a happy and somewhat relieved Pili told Northwest Elite Index. "They came to our game last weekend because my head coach is a graduate from there and he had a lot of connections there, so he called them and told them they needed to come up for our game.
"I had 13 tackles, two sacks and two fumble recoveries, but more importantly, we got to 1-0 on the season and we beat Sherwood which is a rival for us."
The Beavers saw what he could do firsthand, but it wasn't until they went back and watched more tape that they decided to offer.
"They said they really like the way I play and how I'm always going and hustling," Pili said. "I have a good motor and that's something I have always taken pride in.
"They also said they are looking for good kids and that I fit what they were looking for and they wanted to be the first to offer."
While Oregon State may be the first school to offer, they won't likely be the last.
"I've talked a lot with Oregon and Washington and Washington State," Pili said. "Utah State has been talking to me a lot too and I have also talked with Southern Utah and Virginia a little bit here and there.
"This weekend I'm heading up to Oregon for their game and Washington and Oregon State have both invited me up to games to check things out, so it'll be fun to see the atmospheres at those schools and compare how they are."
Most schools see Pili as a dual threat player, one who could play on either side of the ball and he said he doesn't have a preference.
"I'll play offense or defense, I don't really care," Pili said. "I play left tackle for us on offense and I play the three or zero (technique) on defense, so I can play almost anywhere.
"I just love getting out and competing and making plays and helping my team win. I love it here and feel like I've fit in pretty well.
"I was up in Anchorage and we had a family situation come up so I needed to move down (to Portland) to be with my uncle for a little while. It's not ideal, but it's definitely helping me get more exposure. It isn't the reason I came down here, but it's a nice little bonus to being down here."
Westview will take on Barlow this Friday.
We'll continue to keep track of Pili's progress and we will update news on him as it happens.