Click for Marvin Williams Highlights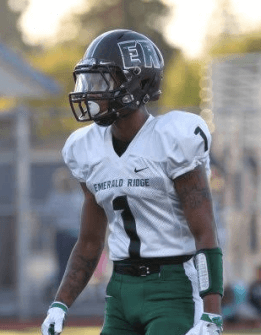 Because he missed most of his junior season, it's taken a while for 2017 Emerald Ridge (Puyallup, Wa.) WR Marvin Williams to pop up on the recruiting radar, but he's off to a good start this season and he's started see things pick up on that front as well.
"I broke my collarbone last season, so I only played in four games," Williams told Northwest Elite Index. "This season I have about 300 yards receiving (on 20 receptions) with two touchdowns and I also have about 200 yards on kick returns."
Williams, a 5'8″, 150-pounder, isn't a big athlete, but he plays big.
"I like to be physical," Williams said. "Size isn't really something I think about. I love to play big and help my team any way that I can."
This past summer, Williams worked on several aspects of his game that he hopes will help him take things to the next level.
"I did a ton of lifting and working out with my team," Williams said. "I definitely wanted to get bigger and stronger for my senior season that's something I really focused on was lifting and working on my conditioning as well.
"I also did a ton of route-running, working on my routes, getting in and out of my breaks and getting separation."
With his productivity as well as his leadership skills, you would think schools would be knocking down the door to get to him, but that hasn't been the case, at least not yet.
"So far, Central Washington is the only school that's really talked to me about recruiting, but I am hoping once school see me and what I can do on the field, that they start to come after me," Williams said.
Expect more schools to start picking things up with Williams once he gets film out on his first four games.
He's a talented two-way player who would be a nice fit out of the slot for a school where he is able to use his natural running skills and hands and he'll be an intriguing prospect to follow over the next five months as he gets closer to deciding where he will play his college football.