Click for Andrew Vargas Highlights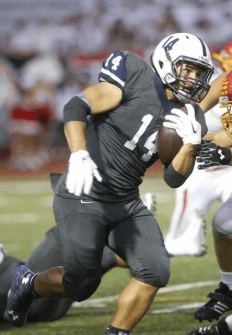 In just three games this season, 2017 Chiawana (Pasco, Wa.) RB Andrew Vargas has shown no sign of slowing down from the pace he set as a junior, but the scary thing is, football might not even be his best sport.
As a junior last season, Vargas totaled over 2,000 yards and 25 touchdowns, but so far this season, he's on pace to rush for over 3,000 yards with his latest game — 36 carries, 417 yards and four scores in a 35-17 win over Kamiakin — getting him very close to 1,000 yards just three games into the season.
"I've gotten off to a great start, but it's all on my teammates and how we're playing as a team right now," Vargas told Northwest Elite Index. "I just love to get out and play and be with my team.
"I'm more of a power runner. I don't go down with the first hit and then when I get to the second level, I can either make guys miss or run over there. I do most of my work between the tackles.
"I worked a lot with my offensive line this summer. We just worked on our timing and getting a comfort-level with each other so that I know what they are going to do and they know what I am going to do instinctively so that we can just play and go out and do what we do."
As far as recruiting is concerned, the 5'9″, 210-pounder has begun to hear from schools, but he might be a better prospect in a different sport.
"Central Washington, Holy Cross and PLU have been the ones contacting me about playing football," Vargas noted. "I am not sure if I will play football in college though because I am getting some bigger looks for baseball.
"Washington, Washington State, Lewis and Clark, Walla Walla Community College, Yakima Community College and Seattle University have all been in contact with me about playing baseball and it's the sport I have been playing since I was little.
"I love both football and baseball and would love to play both in college, but I think I am probably a better baseball prospect because I've been doing it for so long."
Vargas is a strong and instinctive runner who is putting up some eye-popping numbers. While baseball appears to be where his future lies, make no mistaken, he's also a very solid football prospect and should a team decide to extend an offer for that sport.
Chiawana will host Hanford this coming Friday.