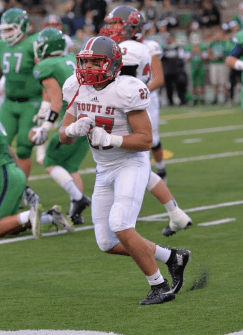 Mount Si (Snoqualmie, Wash.) LB Jack Weidenbach is one of the state's top linebackers for many reasons, but most notably it is his ability to play in space and nose for the ball that jumps out on film.
Linebacker coach Wayne Lewis has been at Mount Si for over two decades and really brings out the best in his group. Wildcat linebackers have led Kingco in tackles five of the last six seasons, including last year when Weidenbach had 135 tackles in just 11 games.
"Being a linebacker at Mount Si is truly an honor and something to have pride in," Weidenbach told Northwest Elite Index. "Coach Lewis is hands down the best LB coach in the state and an even better person. It really resonates in those that he coaches.
"Hank Van Liew, Evan Johnson, Andrew Thompson, and Cory Cotto have carried out a special tradition at Mount Si and I'm honored to help keep it going. I've looked up to every one of them for a reason of their own and told myself to hold their expectations."
This season Weidenbach is averaging around 14 tackles per game, and in on pace to blow past last year's numbers. While Weidenbach is the ultimate team player, tackles are a personal stat he takes plenty of pride in.
"It's a form of competition for me against the state and the one thing that I can have over everyone else," Weidenbach said. "I think it also really reflects my ability to play especially since Kingco 4A football is arguably the toughest football in the state. So yeah, I take major pride in it."
As much pride as Weidenbach takes in bringing down his opponent, he takes even more pride in his work off the field, especially in the classroom, where Weidenbach sports a 3.6 GPA while taking multiple AP Courses.
"Academics is a huge part of me," Weidenbach noted. "It's something I am always trying to balance so I think it's a very important thing. My parents stress it because in this world, it's very important to have a good education for my future after college.
"I believe academics is important because it's something that can never be taken from you and it only gives you a wide array of opportunities."
Weidenbach is a member of the National Honor Society at Mount Si, which requires about 80 hours of community service each year.
"This has really given me the opportunity to give back to my community which gave me so much growing up," Weidenbach says. "Especially in a small town where I know everyone who comes watch my games, it feels really good doing something for them in return.
"I'm also in ASB which allows me to do more for my school community, who also has been a major part of my success."
On the recruiting front Weidenbach is receiving the most interest from the likes of Humboldt State, Central Washington and Concordia Moorhead, but has also been in contact with Wyoming, New Mexico, Montana and Northern Arizona.
We will keep you updated on Weidenbach and his teammates, who take on Eastlake this week in a crucial Kingco 4A matchup.