Click For Draco Bynum Highlights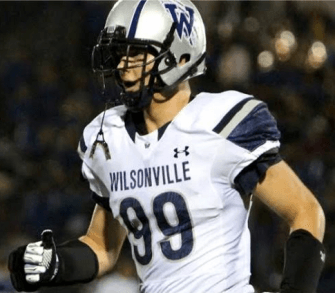 2018 Wilsonville (Or.) DL Draco Bynum's status as a player has been on the rise of late and he's a player who should draw more and more attention as his junior season rolls along.
"I'm still waiting for my first offer, but I have a lot of schools that have been talking to me," Bynum told Northwest Elite Index. "Washington State, Washington, Oregon State, Colorado, Navy and UCLA and Oregon and little bit."
A couple of weeks ago, Bynum took in a game at Washington and he said he came away impressed with what he saw.
"I had an amazing time there," Bynum said. "It was a great game and a great atmosphere.
"I went to Oregon State's game last week and I was supposed to go to Washington State's game (vs. Oregon), but I decided to wait and go to another one. I just needed to rest and recharge my batteries and that's a long drive."
The 6'5″, 250-pounder is a versatile player who can play on either side of the ball, but he said, if given the choice, he'd rather be on the defensive side of the ball.
"I will play wherever the coaches think I fit best, but I love to play defense," Bynum noted. "There's more glory on offense, but I love to play defense.
"I'm quick for a guy my size and I have good hands. I also get off the ball really well and that helps me on defense."
This offseason, Bynum hit a couple of camps and said he was very deliberate in the things he wanted to work on.
"I went to Washington's camp, Oregon State's camp and Stanford's camp," Bynum recalled. "I had a great time and felt like I did pretty well. I wanted to work on my footwork and my agility and my flexibility and I feel like I accomplished that."
So far this season, Bynum has totaled 36 tackles (29 solo), eight tackles-for-loss, six sacks, four pass breakups and a blocked punt while playing mostly defensive tackle and he's hauled in four receptions for 104 yards and a score on offense.
We'll have more on Bynum as he continues to work his way through his junior season and the early part of the recruiting process.