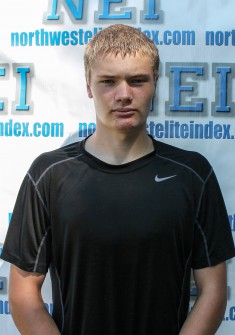 Washington's 2016 recruiting class looks to be one of the best this state has seen. The QB position looks especially strong, and an athlete beginning to make his mark is Brian Campbell of Kentwood High School.
Listed at six-foot-two and 180 pounds, Campbell has good size, to go along with good arm strength and a tremendous work ethic. Campbell also sports a 3.85 GPA, while taking honors and AP level courses.
As a sophomore Campbell was voted as an Honorable Mention member, after helping the Conks to a 7-3 record, including an SPSL North title. In the process he broke school records for passing yards in a game, as well as completions in both a game and season.
Heading into his Junior year, Campbell appears ready to truly breakout. He has a great offseason, and is throwing the ball as well as I have seen. Recently he spent the weekend at a Barton Football Academy event, where at times he was head and shoulders above the rest.
"Personally I want to become a better leader and lead my team to a League and State Championship," Campbell told NEI. "I want to become more efficient running the ball as well to be more of a dual-threat Quarterback.
"Our team goals are to win out in Kent, be League Champions, make the playoffs, make it to the Tacoma Dome and to win the State Championship."
Recruiting is still in the early stages, and going into his junior year it is likely to pick up steadily as his film begins to make its way to collegiate coaches. Thus far he has heard from the likes Idaho State, UC Davis, Wyoming, Eastern Washington, Portland State and Montana State.
With less than a week until fall camp, Campbell is focused on getting himself and his teammates prepared for the season ahead.
"I plan to continue with my 6am strength and speed /agility training four days a week and then work out with my team in the afternoon," Campbell says. "I also plan to keep training with Taylor Barton to improve my foot work, quicker release and accuracy so that I can become the best Quarterback I can be."
Kentwood appears to be the favorites to win the new SPSL Northeast Division. Head coach Rex Norris and his staff have done a great job continuing the Kentwood tradition, one that has never seen the school finish with a losing record.
Campbell has all the physical tools and work ethic you need to play at a high collegiate level, and it should be fun watching his continued progress over the next two seasons.