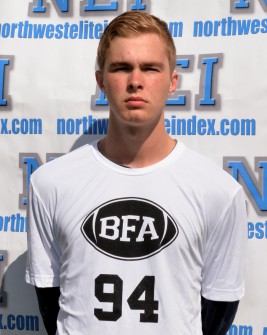 One of the top QB's in Oregon that should get his chance this season is Caleb Tatum (6-4 190 15′) of Mountain View HS in Bend. Tatum will be playing for one of the top 5A teams and coaches in the state in Brian Crum. The Cougars won the state title a few years back and will be ranked in the top 10 to start the year.
Caleb has been training at the Barton Football Academy for the better part of his high school career and is playing at the top of his game. Referencing the upcoming season he says, " My goal for this team is a ring because that is how I look at the season". He continued, " I feel like we have put in the work to make a run and I am excited to see how the potential translates."
Mountain View has multiple QB's once again that can get the job done with Cody Anthony returning as well. They will be loaded at the skill positions as 6-4 & 6-5 wide outs Dantly Wilcox and Austin Albin return, with all everything slot/corner Chris Adamo also back. It's always a battle for playing time in the Cougar system but Caleb has never shied away from the competition saying, "Personally I'm just excited to get the opportunity to lead this team and let the work I have done show". Adding, "Hopefully this will help me prepare for college football in the future."
The kids out of Central Oregon went (8-3) last season and will be the favorite to win this year's IMC title. Tatum does not have much Varsity experience but the same has been true for most of the Cougar QB's over the past few seasons. They will play a tough non conference schedule to start the year, opening up at Wilsonville who should also be ranked in the top 10.
Expect to hear much more from Caleb as he is a very talented overall athlete and an even better kid. We will bring you updates on Mountain View and Tatum as the season progresses.