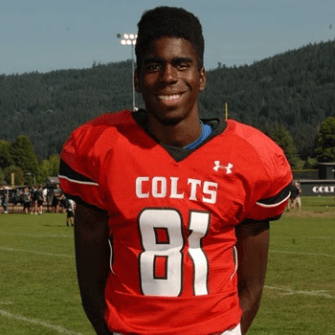 One of the top junior athletes in the state of Oregon is Robert Connor (6-6 180 16′ WR) of Thurston HS in Springfield. He caught 21 passes for 331 yards and 7 TD's, averaging 15.76 yards per catch in 2013.
He is a multi sport kid that possesses legit D1 size and overall athleticism. You can expect Head Coach Justin Starck to exploit his talents over the next two seasons as the Colts are a pass happy group. Last season was tough as Thurston finished (2-8), but Starck has done a phenomenal job with his teams over the years, accumulating a (66-42) record since 2004.
Connor had multiple breakout performances as a sophomore, including a 3 TD day against SWC Champion North Medford, and an impressive 102 yard receiving night with a touchdown to conclude the season in a playoff loss to Beaverton.
You can expect defenses to make adjustments based on where he is on the field. He will require a consistent double team, as Connor will win 90% of his one on one matchups with his size and overall athletic ability. Its rare to see a 6-6 kid taking back kicks, but he was one of the primary returners averaging over 20 yards a return.
The Colts have some talented kids returning, as Robert should headline a promising group in the years ahead. We will keep you updated on Connor and Thurston as the year continues.