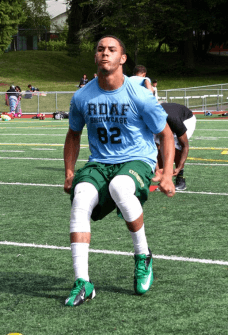 A kid we have gotten to know well over the last few seasons is Jerrin Williams (6-1 195 15′ S/QB) of Evergreen High School in Vancouver, Washington. He was recently offered and has committed to Montana.
Williams was a two time all conference QB at North Salem HS in Oregon the last two seasons, before transferring to play for Don Johnson's Plainsmen. He projects on the defensive side of the ball, and said yes on the same day to one of the nation's top FCS schools.
The Grizzlies have done a phenomenal job of recruiting the Northwest as Jerrin said, "It feels like a huge weight has been lifted off my shoulders, as I think Montana will be a great fit for me."
Last week against Yelm Williams threw for 257 yards and 2 Td's, while rushing for another 81 on 8 carries, with two scores (61, 14). He is one of the most versatile kids in the region excelling on both sides of the football.
Jerrin was a standout as part of the BFA 7 on 7 travel squad that we took to Vegas last off season. Johnson helps his athletes as much as any head coach in the region and Williams is a prime example of a very talented kid, needing some extra exposure. We will keep you updated as the year continues.