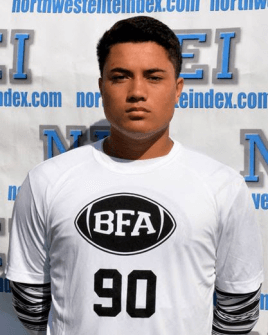 Exciting news for Oregon's top ranked senior LB Pepe Tanuvasa (6-1 220 15′ ) of Tigard, as he was just offered by Navy.
The 2015 standout has had a defensive player of the year type season as the Tigers are (6-0) and ranked #2 in the state. This was Tanuvasa's second offer after D1aa Virginia Union made their intentions known this summer.
Pepe is a 3.7 student and ranked our #1 LB for the 2015 class. He could very well add some additional offers in the near future as his stock continues to rise. Referencing the scholarship he says, "I saw Coach Nua had come to the school and I thought it was just a routine visit, but then he offered me, and my mouth dropped."
Tanuvasa is young for the grade and comes from a football family with his dad starting at LB for Hawaii back in the day. His upside is off the charts for multiple reasons as Pepe added, "After speaking with Coach Nua I feel a lot more confident as it's really exciting to see my hard work paying off.
Pepe is as humble as they come and let's his play do the talking. He will be a primary factor if Tigard is to win a conference and state title. The Tigers will travel to #8 West Linn (5-1) Friday night for one of the state's top games.