Sam Inos Sr. ATH/ Landon Floyd Sr. RB Tigard– One of the top combo's in the Northwest had a nice Friday night against #8 West Linn in the 45-35 win. Inos rushed 21 times for 202 yards and a TD with Floyd matching the carries (21), rushing for 99 yards and 2 TDs.
Kellen Strahm Sr. ATH/QB Sheldon– Strahm continues his player of the year type season rushing 8 times for 137 yards and 3 TDs, while going 6 of 7 through the air for 131. The Irish crushed Thurston 81-10.
Blake Ingram Jr. RB Skyview (WA)- The 6-3 205 pound Ingram is a beast. He rushed 25 times for 214 Yards and 3 Td's in the big 35-28 win over Columbia River.
Cody Coppedge Jr. WR West Linn– One of the NW's top junior's caught 7 passes for 132 yards and 2 TD's in the loss to #2 Tigard. He will be one of Oregon's most recruited kids.
Kyle Cornett So. Slot/DB Summit– You will hear this kids name a lot over the next couple years as he is legit. The Sophomore scored 2 TD's in the 4th quarter (55 Punt Return/ 23 Td pass), to help the Storm beat Ridgeview 28-14.
Chase Knutz Sr. QB Hermiston– Knutz is a leading candidate for 5A player of the year honors. He went 13/16 for 297 yards and 7 TD's in the 75-6 win over The Dalles.
Michael Waters Sr. RB Grant – Currently the leading candidate for PIL of the Year honors. Waters rushed 40 times for 300 yards, but the Generals lost a close one to Sprague 16-15.
Matt Jones Sr. QB/ Damon Peters Jr. WR Hillsboro– Jones is another kid that should be up for conference player of the year honors. He threw for 4 more TD's, 3 of which went to Peters, in the 28-22 come from behind win over Parkrose.
Sam Kuschnik Sr. RB Silverton– The Senior RB controlled the tempo in the #1 Foxes 38-6 win over #6 Central. He rushed 25 times for 266 yards and 5 Td's.
Sirgeo Hoffman Sr. RB Gresham– The state's leading 6A rusher has been consistent all year, carrying the ball 40 times for 231 Yards and 2 TD's in the 23-20 loss to Clackamas.
Trevon Bradford Jr. ATH Oregon City– One of the most exciting players in the west continued his impressive season, going for 156 yards and more 2TDs, giving him (12) for the year. The Pioneers beat Reynolds 48-19.
Devin Kaneshiro Sr. RB/ Koby Alvarado Jr. RB/ Liberty D– One of the hottest teams in the state. Kaneshiro rushed 11 times for 160 yards and 3 TDs, with Alvarado adding 7 carries for 185 yards in the 41-7 win over Bend. The Falcons defense has allowed 32 points in their last 4 games as they sit at (6-1).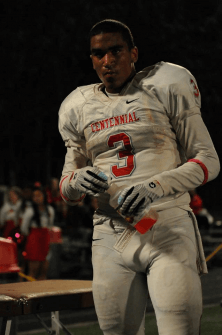 Springfield Defense– The Millers got one of their biggest victories in school history against undefeated Ashland 37-26 on the road. The D accounted for 6 sacks, and a 35 yard interception return by Kyle Shill to seal the deal late.
Jackson Davis Sr. LB/ATH Wison– One of the PIL's best came up big on Friday, scoring 2 TD's with a block punt that was returned. He also had a TD run in their 21-0 win over Jefferson.
Dezmond Stoudamire Sr. RB/CB Centennial– Stoudamire was known for his defense prior to this year, but has taken over offensively. He rushed 18 times for 171 yards and 3 TD's in the 35-18 win over David Douglas.
Nick Janakes Sr. RB North Medford– Janakes continued his phenomenal year, rushing for 193 yards and 3 TD's in the 44-16 win over Willamette.
Kyle Weinberg Jr. QB Ashland – Even in the loss the junior has battled and looked good this year. He was pressured consistently being sacked 6 times, but completed 20 of 36 passes for 257 yards and 4 TD's
Brandon Dall Sr. QB La Grande– The 4A talent went 27 of 44 for 405 Yards and 5 TD's in the 40-34 loss to Ontario.
Conner Crist Jr. T Tigard– Oregon's #1 ranked Junior O lineman (6-4 300) has a had a phenomenal season thus far, impressing on D as well. Expect him to receive multiple offers in the near future.
Jeff Lacoste Jr. RB West Albany– Lacoste just continues to get better as the season progresses. He rushed 32 times for 320 yards and 3 TDs in the 47-21 win.
Jerad Bentley Jr. WR / James Price Sr. WR/ Liam Fitzgerald Jr. QB Camas (WA)– One of the top receiving tandems in the region looked great, catching close to 20 passes from Fitzgerald in the 37-20 win over #2 Union. Bentley caught 10 passes for 119 yards, with Price grabbing 9 balls for 85 yards and a TD.
Jack Bauer Sr. RB/FS Union (WA) – Bauer was all over the field in the loss to Camas. He made 12 solo tackles and scored 2 TD's for the Titans.
Mike Irwin So. QB Mt View– One of the fastest rising Sophomores in the state. Irwin carried the ball 20 times for 161 yards and a TD. He also went 11 of 17 passing for 166 yards and a touchdown in the 34-30 win over Redmond.
Taylor Jensen Jr. QB / Cam Kemper Sr. WR Forest Grove– It's been a tough year for the Vikings (1-6), but the 6-5 Jensen is a player passing for 338 Yards. Kemper has been one of the breakout athletes state wide, catching 11 passes for 163 yards, in the 47-21 loss to West Albany.
Trevor Bovero Sr. RB Westview– One of the more underrated kids in the state. Bovero has had an outstanding year, carrying the ball 21 times for 152 yards and 2 Td's in the 43-21 win over Century.