Click for Raemo Trevino Highlights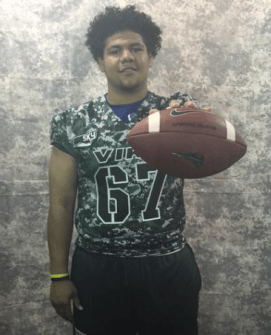 News coming down tonight is that Ballard (Seattle, Wash.) High School DT Raemo Trevino has made a verbal commitment to Portland State University.
"Talked over with my family and felt like what they're doing down there with all their coaches is something special," Trevino told Northwest Elite Index. "There a team that's on a rise, and I want to be apart of that. I also felt like it was a great choice not only for football, but the educational aspect."
Portland State is off to a great start this season, with wins over Washington State and Idaho State. Trevino plans to visit the Vikings on October 3rd, when they play host to the University of North Dakota.
The Vikings like Trevino at Defensive Tackle, and he is one of the state's best in the 2016 recruiting class. Trevino plays with quick hands, good strength and one of the best get-offs in the region.
With recruiting in the rearview mirror, Trevino can put full focus into his senior season. Personally, he is off to a bit of a slow start, partly because he has been hampered by a lingering ankle injury.
That hasn't slowed the Beavers, who are 2-1 after an impressive 66-48 win over West Salem (OR).
"We've gotten better every week," Trevino said. "Week three we really started to click and it's something special we're putting together. I'm very confident we can put a special run this year into playoffs, but not a lot of people know about Ballard just yet."
Ballard enters league play this week against Chief Sealth, and are the favorites in the Valley Division, so you can expect to hear more from Trevino and his teammates.