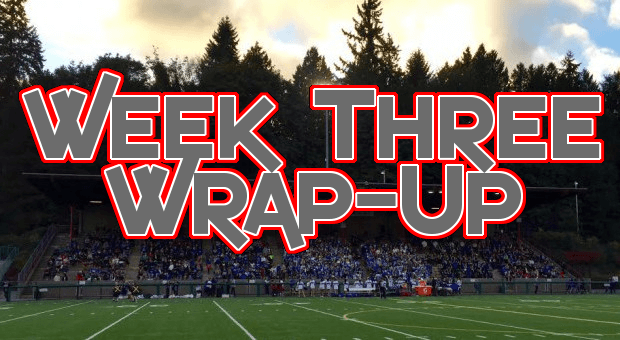 Click Here for Updated Top Ten Team Rankings
It isn't often I get to see two #1 ranked teams in one weekend, let alone seeing them in a match up against another top ten teams. I got to see four 4A team, including a 2014 semi-final rematch, as well as two of the top teams on a yearly basis in the 1A classification.
#1 Gig Harbor Tides 40 – #10 Eastlake Wolves 6
Roy Anderson Field in Gig Harbor is one of my favorite places to watch a game. The crowds are loud, organized and really into the game. I had planned on hitting a local restaurant before the game, but was pulled to the stadium early with the mention of a Chili Dog, that didn't disappoint.
My thoughts and analysis are below, but if you would like to read a recap of the game, follow This Link to an article by Jon Manley of the Tacoma News Tribune.
Numbers wise, Davis Alexander ('16) didn't have his best game overall, but was great in crucial moments. I recorded him as 14-29 for the night, for 224 yards and three TDs. Alexander also ran for just over 100 yards and another TD.
I thought Adrian Valona ('16) was having a great game until an undisclosed injury forced him to miss the second half. Valona finished over 100 yards on just eight carries and had a TD. He showed good burst through the line, great vision and tremendous ability to run through tackles.
Sean Reemts ('16) really impressed me throughout the game. He is listed as 6-foot-2 and 290 pounds, but looks taller. Reemts plays with a mean streak on both sides of the ball, although I think he best projects on the inside of the OL, likely at Center, but plays LT for the Tides. He has a good get-off and does a great job getting to the second level.
Gig Harbor stands out from the rest because they have more skill players than just about any team. Cory Condon ('16) really stood out, and led the team in receiving on the day, while Kale Wong ('16) and Bo Longmore ('16) were every bit the defensive playmakers I expected.
While Eastlake didn't have their best game, QB Mark Whitley ('16) impressed me. He moves well in the pocket and has a nice arm.
A name to keep an eye on is Colin Booker ('17). Standing 6-foot-5 and weighing 285, Booker is tough to move on the interior DL, moves well for his size and required a double team the entire game. I thought Spencer Thompson ('18) and Eric Plummer ('17) played well on the right side of the OL. Both are underclassmen and a little undersized, but play hard. They are on my list to view film later in the season.
#1 Royal Knights 27 – #5 Connell Eagles 20
Royal City is the epitome of small town football, and as expected, I loved every minute of my experience.
I was shocked to hear that the Royal football program fields a Varsity, JV and C team, and their Grid Kids program has 120 kids from 3rd to 6th grade (pretty sure I got those numbers right). I can think of a handful of 4A programs in the state that can't say that, and Royal has an enrollment around 1/5 of most 4A schools.
Another cool thing the Knights did was they had a big BBQ going behind the stands, that following the game would feed the visiting Connell players. Royal isn't the first team I have ever seen that do player introductions, but they are the first I have ever seen to introduce their starting kick coverage unit.
You see why I had so much fun?
QB/FS Kaden Jenks ('16) had a really nice all-around game. He made nice reads throughout the night, and dropped a great touch passes, including one while on the run for a TD to Samuel Christensen ('16). Late in the game, Jenks completed a crucial fourth down conversion to extend the game winning TD drive, then came up with an INT on a double pass as Connell looked to tie the game.
RB Joseph Lang ('16) has nice size at 6-foot-2 and 180 pounds, and really plays a great all-around game. He runs tough offensively, and scored the game winning TD on a tough one yard run. Carson Gilbert ('16) impressed defensively with his aggressive play. It seemed like Gilbert was in on just about every tackle, or within a few yards of the play.
Really liked what I saw from Jose Ponce ('16), before what looked like bad cramps ended his night. MLB Valente Cortez-Lopez ('16) is a lot of fun to watch. He is small in stature, 5-foot-8 and 198 pounds, but he brings plenty of intensity and pack a real punch. There is a lot to like about Connell, and they have the look of an eventual state champion, but may be a year away. QB Brian Hawkins ('17) does a great job commanding the offense, and is a capable dual-threat. The Eagles used multiple RB's throughout the night. Parker McCary ('18), Caleb Price ('17) and Jaxs Whitby ('17), all saw carries and are underclassmen. A couple of underclassmen clear the way for those three, as Clay Easterday ('17) and Seer Deines ('18), both look to have bright futures. Steven Kroontje ('17) had a very impressive night at DE/TE. He is a big target on offense, I could tell you how big if Connell listed heights and weights, and did a great job getting his hands up and batting down passes while on defense. Bothell Cougars 34 – Newport Knights 10 Anytime you get to watch a game at Pop Keeney Stadium in Bothell, you know you are gonna have a good time. Anytime you get to see Bothell at Pop Keeney Stadium, you know you are going to been in for a lot of blue and train horns. If you ever get a chance to attend a Bothell home game, get there really early and watch them walk down the hill and into Pop Keeney, it is a pretty cool experience. Below I posted a video I took from the game. Bothell QB Jacob Sirmon ('18) started the night on fire and finished the night 13 of 18 passing, for 201 yards and two touchdowns. Sirmon showed good command of the offense and did a great job in key situations. RB Damani St. John-Watkins ('16) had a nice night on the ground, finishing with 89 yards and three TDs on 13 carries. This was his first game of the season, after missing the first two due to injury. Kevin Liu ('16) had a nice all-around night, including a catch and run TD on a screen early in the game and multiple stops on defense. Really liked what I saw from Bothell's Peter Davis ('17). He has nice size at 6-foot-3 and 220 pounds, and did a great job on both sides of the ball, including catching the game's final TD pass. Also liked the play defensively from Patrick Shrum ('16) and Keeyante Griffin ('16). Both did a nice job defending the deceptive Newport offense, and really set the tone for the game with their toughness. I thought Jesse Sims ('17) showed continued progression at DT, and he makes a name for himself as one of the better lineman in his class. Newport showed some flashes, but frankly didn't have the playmakers to keep up. RB Thomas Day ('16) looked very good. Day is a runs very hard and plays a tough game, with good speed and vision. O'shae Richard ('16) looked good at RB as well, and could be a name to watch if he continues to work. Liked the play of center Alex Yockey ('17). He is listed at 6-foot-1 and 240 pounds, but plays much bigger than that. His toughness inside is needed for the Knights to be successful in the run game. Yockey plays hard, fast and very physical.