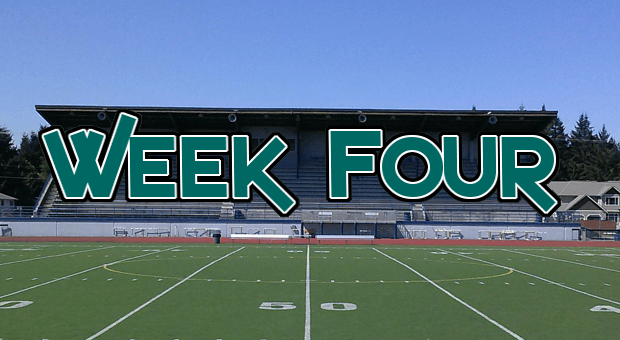 My Schedule
Thursday – Central Kitsap Cougars (1-2) @ North Thurston Rams (2-1) – 7pm South Sound Stadium
Friday – 2A #9 Sedro-Woolley Cubs (2-1) @ 2A #8 Squalicum Storm (3-0) – 7pm Civic Stadium
Saturday – Union Titans (1-2) @ Spanaway Lake Sentinels (1-2) – 1pm Art Crate Field
Saturday – Bishop Blanchet Braves (3-0) @ Roosevelt Roughriders (1-2) 5pm Seattle Memorial Stadium
Thursday Games
Big game over in the Greater Spokane League, where the league favorite from both 4A and 3A square off as the Gonzaga Prep Bullpups (3-0) head down the road to Joe Albi Stadium to take on the Mount Spokane Wildcats (3-0). Mount Spokane can beat you a variety of ways, and had five touchdowns, from five different players last Friday. Gonzaga Prep is a no bones about it team, you know what they are going to do, but can you stop it?
I am headed out to South Sound Stadium in Lacey where there North Thurston Rams play host to Central Kitsap. CK lost their first two, before obliterating Mount Tahoma last week 69-0, while NT is in a win-lose-win cycle. I am excited to see CK safety Kendal Yaegle ('16), who is one of the hardest hitting safeties in the state. North Thurston is quietly a very talented team, and I have multiple athletes listed already, including 6-foot-5 inch TE Darren Sroor ('16).
Root Sports is showing Kentwood (2-1) and Kentridge (1-2) from French Field. This is the first SPSL Northeast game for both teams. Chavez Kalua-Fuiamaono ('17) scored the game winning TD late as the Conks beat Jefferson last week, while Kentridge throttled Decatur, behind three TDs from senior Sam Mullins.
Friday Games
I am excited to make my way up north to Civic Stadium in Bellingham for what should be a great matchup as two top ten 2A teams battle. Sedro-Woolley, the defending state champs were beaten last week at home by a very good Burlington-Edison squad, while Squalicum made a statement by shutting out Lynden, a team they hadn't beat in 15 years. So, how will the defending champs respond? How will the upstart Storm play after a big emotional win last week? I will let you know my thoughts following the game with the weekend wrap-up.
Top 4A game this week looks like an SPSL South matchup between the #5 Graham-Kapowsin Eagles (3-0) and the #8 Curtis Vikings (3-0). Curtis has slayed some pretty big dragons to start the season, and will want to prove they are the real deal. GK took it to Kentlake and Emerald Ridge, but struggled with TJ the night they lost Foster Sarell to injury. This is a huge game in terms of playoff seeding, as both teams have the look of going a long way.
Another big 4A matchup, and the biggest game on the Eastern side of the state, is a battle between the Richland Bombers (2-1) and Hanford Falcons (3-0). Hanford went winless last season, and new HC Brett Jay looks like he may have righted the ship, although their schedules thus far has been rather soft. Richland on the other hand is coming off a big 28-7 win over Chiawana. Lakota Wills ('16), an Air Force commit, leads the Bombers #1 ranked MCC defense and is one of the state's top LB prospects. If Hanford is going to win, they will need a big night from their #1 ranked MCC offense, led by QB Desmond Samples ('17), who is averaging 200+ yards through the air, and about 75 a game on the ground.
Staying in the Mid-Columbia Conference we have another rivalry matchup as the #10 Kamiakin Braves (2-1) take on the Kennewick Lions (2-1). This game has two of the top RBs in the MCC, statistically speaking, as Kamiakin's Jethro Questad ('17) and Kennewick's Ronnie Loomis ('17) face off in what should be a big ground battle.
The top 3A game takes place at Auburn Memorial Stadium, where the #4 Auburn Mountainview Lions (3-0) play host to the #6 Sumner Spartans (3-0). Mountainview is led by QB, and Montana commit, Gresch Jensen ('16), while Sumner's top dog is RB Connor Wedington ('17). Jensen has been picking apart defenses to the tune of a 50/ppg average. I've been receiving good reports of WR's Vaughn Daggs ('16) and Ki'Jan Weisinger ('16), who provide Jensen with plenty of fire power. The Spartans play a physical defense and a bit of a ball control like offense, so it will be interesting to see how these two styles mesh.
Another big SPSL 3A matchup takes place at Harry Lang Stadium, as the host #8 Lakes Lancers (3-0) take on the three time defending league champ Peninsula Seahawks (2-1). The Lakes offense is averaging 68/ppg, but have yet to play a real quality opponent. Peninsula stumbled out of the gate, getting blasted by rival Gig Harbor, but have since recovered with wins over SK and Auburn. One of these teams will prove they are for real this week.
Couple of big games in the Evergreen 1A this week as the #10 Hoqiuam Grizzlies (3-0) travel to take on the previously ranked Eatonville Cruisers (2-1), and the Tenino Beavers (2-1) head to Elma to take on the unbeaten Eagles (3-0). Both should be great matchups, and should provide us with a much clearer look at the conference.
Hoqiuam is led by 6-foot-5 QB Gregory Dick ('17), who threw for 240 yards last week in a win over Tenino. WR Jordan Dayton ('19) is a player to keep an eye on, as he stands 6-foot-2 and 170 pounds as just a freshman. If Tenino is to beat Elma, they are going to need RB Thomas Pier ('16) more than the 75 yards on the ground he had last week. Pier is Tenino's most explosive player, and the key to the Beaver offense.
The Orting Cardinals (3-0) play host to the River Ridge Hawks (3-0) in a big 2A SPSL matchup. River Ridge RB Gustavo Diaz ('16) is averaging close to 150/ypg on the ground, while Orting sports a very tough defense, allowing just 11/ppg, and only 6.5 in their last two. Jackson Bell ('16) paces the Cardinal offense, with close to 100/ypg.
Saturday Games
I am headed out to one of my favorite spots in Art Crate Field, where the host Spanaway Lake Sentinels (1-2) take on the Union Titans (1-2). Unfortunately I highly doubt Union's Band will be in attendance, as they only usually travel during the playoffs. RB Rey Green ('16) is as explosive as they come in the state, and should see plenty of action, but look for Jojo Siofele ('19), who finished with 111 yards and three touchdowns in last week's loss to upstart Mountain View, and has the look of being one of the state's top backs for his class.
The night game for me will be Bishop Blanchet (3-0) and Roosevelt (2-1). Blanchet is led by RB O'Shea Trujillo ('16) and QB Alex Freeman ('16), why Mayan Chavez ('16) does most of the heavy lifting for Roosevelt. This should be a fast game, as both teams prefer the ground game, but I am also excited to see Freeman, as he looked good at the Northwest 9.