Click for Hunter Bryant Highlights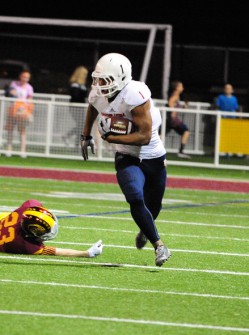 Hunter Bryant of Eastside Catholic (Sammamish, Wash.) is the top ranked 2017 TE from the State of Washington, and has the look of a national recruit.
At 6-foot-4 and 240 pounds, Bryant is a mismatch for just about any defender put in his way. He is faster than linebackers, bigger than corners, and can win a jump ball anywhere on the field.
"I model my receiving game after Dez Bryant," Bryant told Northwest Elite Index. "Just the way he's always bringing in jump balls and he is a mismatch for most defenses."
Through three games this season, Bryant has 18 receptions for 499 yards and seven touchdowns, including a, 8 reception, 243 yard, 4 TD performance in a week one win over Oceanside (Calif.) High School in the Honor Bowl.
"The Honor bowl was a great experience," Bryant said. "Being with veterans and playing for a great cause. I've never been to California before, but I absolutely loved the area.
"I had one of the best games of my career and got the athlete of the game award, so that was pretty cool. Overall it was a great experience and I would love to do it again."
There are some out there that think Bryant may see his best days on the defensive side of the ball, as a DE/OLB hybrid type, and he has played some this season, although his stats are limited at this point.
Just size alone he is intriguing, but with his overall athleticism, hands and work ethic, it is only a matter of time before Bryant has multiple options for the next level.
Bryant is already hearing from the Pac-12, as Washington, Washington State, Oregon State and Oregon, have already been in contact, as well as Rutgers of the Big Ten.
Things will surely pickup for Bryant as his highlight video and game film make it to the offices of D1 coaches across the country, but for now he is focused on school, where he sports a 3.5 GPA, and getting back to the Tacoma Dome with his teammates.
"To get back to the Tacoma Dome we need to play with in ourselves," Bryant noted. "Overall we are a better team than last year. We've got a lot of work to get to where we need to be, but we will get there."
Bryant and the Crusaders are off to a 3-0 start with a game at Lakeside later today. We will keep you updated on Bryant and his teammates as they defend their 3A State Championship.