Click for Conner Crist Highlights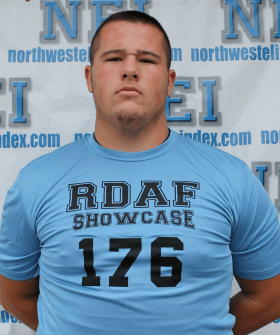 2016 Tigard (Or.) OL Conner Crist is one of the top line prospects in the Pacific Northwest and he recently updated Northwest Elite Index on where things stand on the recruiting front.
Crist currently holds offers from six schools and with his size and aggressive nature, he's bound to draw more interest in the near future.
"I have offers right now from Yale, Idaho, Air Force, Portland State and Bucknell," Crist told NEI. "I went to a bunch of camps this summer and they really helped me get out there.
"I went to the Northwest Elite camp, the Portland State camp, the Nike Opening Regional in Eugene (Or.), the Rough Diamonds Showcase and camps at Portland State, Oregon State, Oregon and Washington."
Crist has yet to take an official visit, but he has made a couple of unofficial visits to schools.
"I've gone to games at Washington, Oregon and Portland State so far," Crist said. "I haven't set up any of my official visits yet. I will take all of those after my season is over.
"I will probably take one to Portland State and possibly to Utah State if they offer me."
While Crist has been methodical about his approach to recruiting, he has been thinking about some of the things he will look for in the school he chooses.
"A big thing will be the program success," Crist said. "Also, how well will a degree from that school help me after my playing career is over.
"Distance from home will play a small part in choosing the right place for me, but I'm open to anywhere right now."
At nearly 6'4 and weighing in at 295 pounds, Crist already has good size and even though he plays tackle for his team currently, when he gets to college, he'll likely slide inside where is aggressive style is a perfect fit.
"I think that I run block very well," Crist noted. "I bring a lot of physicality to the field. There are some things that I need to work on in regards to technique, but that's probably my strong suit."
Crist and his team got a big 45-33 win over Lakeridge this past Friday and they will take on Tualatin this coming Friday as they conclude their regular season.