Click for Andrew Boston Highlights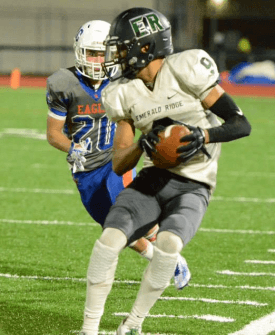 A rising junior to keep an eye on in the state of Washington is Emerald Ridge (Puyallup) CB/WR Andrew Boston.
As a junior this season, Boston finished the season with over 50 receptions for 750 yards and seven scores while also posting two interceptions and over 50 tackles on defense.
With his long and lean frame (6'3", 180 pounds), Boston could be a stellar player on either side of the ball, but he told Northwest Elite Index recently he sees himself more as a receiver than a defensive back.
"I can do both and I am open to playing both in college if that is where a coaching staff sees me, but I like to have the ball in my hands and score rather than cover and make hits," Boston said. "I'm a good route-runner. Obviously I need to always work on refining them, but I feel like I run pretty good routes and I have speed and I can maintain my speed through my route.
"I also have good releases and I can get off press coverage pretty well.
"I've only been playing corner for this season. We needed someone to step in and play so I did it, but I feel more natural at receiver and that's where I've been playing basically my whole life."
On the recruiting front, since he's just a junior, things have barely gotten off the ground for Boston, but that should change once schools get a look at his junior film.
"It hasn't been a lot, but I have gotten stuff from Eastern Washington, Washington and UC Davis," Boston said. "I've been to several Washington games, Utah just this weekend, Cal and also Oregon."
Boston attended several camps this past summer, hitting the Eastern, UW, Boise State and Northwest Elite camps during June and he said he's planning to hit those four again this summer as well as one or two more.
Emerald Ridge finished their season 4-6 on last Thursday with a 48-35 win over Kentridge.
No the junior athlete will turn his attention to getting healthy, playing basketball and getting ready for track season.
"I just do those to compete and also stay in shape," Boston said. "First and foremost, I am a football player. It's the game I love to play and where my future is."
NEI will keep track of Boston during the winter and spring and we will update news on him as it happens.