Click for Kiahve Dennis-Lee Highlights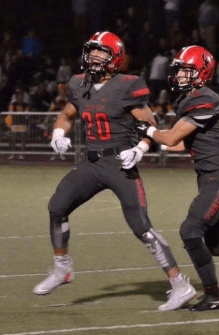 He might not have gotten a lot of attention from recruiting sites, but make no mistake, 2016 Oregon City LB Kaihve Dennis-Lee has drawn plenty of interest from college coaching staffs and he has two offers to prove his worth.
"My offers right now are from Air Force and Wyoming," Dennis-Lee told Northwest Elite Index. "Oregon State and Washington State have also been in contact with me, but they haven't offered yet."
As far as where he is in the process, the senior admits he's been more focused on his season and will turn to his future once that has been completed.
"I haven't set up any visits yet, but I am planning to do that pretty soon," Dennis-Lee noted. "I've been to see Oregon and Oregon State games and I had a good time going to see both of those schools."
As a senior this past season, Dennis-Lee led his team with 88 tackles while also picking off three passes and generally being one of the leaders of the Oregon City defense and he's earned First Team All-League honors for three-straight seasons.
"I played mostly in the middle because that's where my team needed me to play, but I'll probably move outside when I get to college," Dennis-Lee said. "I think one of the biggest things about me and what I do well is that I play fast and that I have a really strong motor.
"I think I do all of it well. I can rush the quarterback, I can stop the run and I can drop into coverage. I worked a lot on my coverages last summer and it has really helped me because I have been in the right spot to get three interceptions so far."
Oregon City takes on West Linn, the team that beat them 40-28 in the first week of the season, on Friday night in the third round of the state playoffs.
Northwest Elite Index will continue to keep track of Dennis-Lee as he works his way through the recruiting process and we will update news on him as it happens.