Click for Lazarus Williams Highlights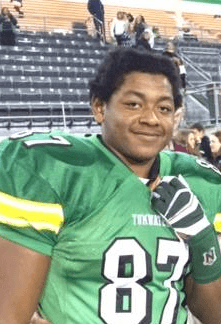 When you talk about players who garner attention from the moment you see them, Tumwater junior DL Lazarus Williams is just such a player.
At 6'5, 250 pounds, Williams impresses on the hoof and he's got the athleticism and instincts necessary to elicit offers from schools at both the FCS and the FBS level.
This season, his first as a starter, Williams has totaled nearly 50 tackles to go along with eight sacks from his defensive end spot although he does rotate inside to tackle at different times as well.
"I think I do a good job of motivating my teammates. We go hard every down and I think that's a big thing I bring," Williams told Northwest Elite Index recently. "As far as on the field and how I play, I am probably better as a pass-rusher, but I can read things pretty well and I think I do a good job of stopping the run too.
"I read the run well and then I'm quick at reacting to things and when I read it right, I have the speed to run and track the back down."
This past offseason was big for Williams who had the requisite size and athleticism, but, until this fall, he hadn't seen the field.
"Obviously, our offseason workouts were really important for me, but on top of that, I just did some morning runs to help me get into better shape so I could play on both sides of the ball," Williams said.
Offensively, Williams handles tight end duties, bringing his defensive mentality to offensive side.
"I am more of a blocking tight end," Williams noted. "I like to get after it blocking, but I also just have fun competing."
So far the only school to show Williams interest, at least to this point, has been Washington, but you can probably expect more to come calling once schools get a look at his junior film and what he brings to the table.
With his size, athleticism and nose for the ball, he's a player who could rise up the ranks very quickly during the spring and summer after he hits the camp circuit.
Tumwater is in the quarterfinals of the state playoffs and will face off against Squalicum this coming Saturday.
Northwest Elite Index will have more on Williams in the coming weeks and months and we will update news on him when it happens.