Click for David Woodward Highlights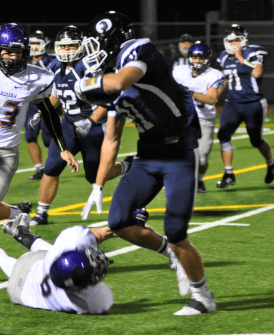 Great news from the South Sound where David Woodward of Olympia (Wash.) High School has received an offer from Eastern Washington University.
"Coach [Jeff] Schmedding called to inform me that they were offering me," Woodward told Northwest Elite Index. "It feels great to finally achieve a goal I've had since my childhood."
This is the first offer for the 6-foot-3, 195 pound two-way standout, who was recently named the 4A Narrows League Offensive MVP for his work as a WR. He was also named first team All-Narrows on defense, and says Eastern Washington would like him to play Safety.
Woodward has been in contact with the coaching staff at Eastern Washington for some time, and has been out to Cheney for an unofficial visit.
"I visited for the game against Weber state and really loved the campus," Woodward said. "It looks like a really good program. I got to talk to a few players and they all seemed really nice and spoke well about the school and program."
"I have not scheduled any future visits yet but have been talking to the coaches about scheduling one soon."
Time will tell, but it wouldn't be at all surprising if this starts a string of offers for Woodward, who has seen interest pick up as the season progressed and his film made the rounds. He is currently hearing mostly from the likes of Washington State, Portland State and Montana State.
Woodward is a talented three-sport athlete, also excelling in basketball and track, while carrying a 3.3 GPA.
We will keep you updated on Woodward as we inch closer to signing day in just over three months.