Click for Joe Tryon Highlights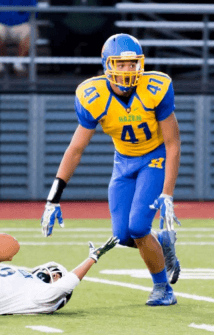 A player that has started to draw the attention of college coaches since the end of the 2015 football season is 2017 Hazen (Renton, Wa.) DE Joe Tryon and he could be getting close to some offers as we head toward camp season.
"I don't have any offers yet, but I've been talking to a few schools," Tryon told Northwest Elite Index. "I attended Washington's Junior Day and had a great time. I've also been talking to Eastern Washington and Portland State."
With his 6'5″, 230 pound frame, Tryon has the exact size coaches are looking for along the defensive line and he said that is the position most schools see him playing once he gets to college.
"My mix of my size and speed really gives me an advantage on the field and experience is something that helps too," Tryon noted. "This offseason, I'm doing track for the first time this year and it's just getting me faster, but also I'm working on my explosiveness so I'm faster off the ball."
As far as camps are concerned, Tryon hopes to hit several this sprint and summer in order to show coaches what he can do.
"I know I want to hit a few camps, but the only one I know that I'm going to attend for sure is the Northwest Elite camp," Tryon said. "I definitely want to hit a few more, but I haven't figured out which ones just yet."
As a junior last season, Tryon totaled 82 tackles and seven sacks while earning First Team All-Seamount League honors.
He is steadily becoming a prospect that college coaches are getting to know and most recruitniks are just finding out about, so remember his name because with his natural size, solid work ethic and productivity, he should garner plenty of attention in the coming weeks and months as the recruiting process moves along.