Click for Abe Lucas Highlights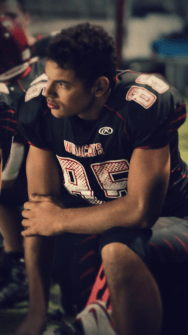 A rising star among the 2017 prospects in the state of Washington currently is Archbishop Murphy (Everett) DE Abraham Lucas. The talented senior-to-be hauled in his first offer recently and more could be on the way.
"Wyoming offered me," Lucas confirmed to Northwest Elite Index shortly after the news became public. "They said that they liked how I was able to run and pursue to the ball and how I accelerate and then he said that they were gonna offer me a full ride."
The Cowboys are the first to offer the 6'8″, 260-pounder, but with his size and athleticism, several more schools are also giving him some attention.
"Besides Wyoming, Washington, Eastern Washington, Washington State, Air Force and Portland State have all been talking to me a lot," Lucas noted.
As a junior last season, Lucas totaled 36 tackles, 15 tackles-for-loss, six sacks and a fumble recovery while helping to lead the Wildcats to a 12-1 record and a berth in the State 2A semi-finals.
"For a guy my size im pretty fast," Lucas said. "I'm also very long and after the ball is snapped I take a couple of position steps and then I'll pursue the ball-carrier and finish the play."
This offseason, Lucas has been looking to add size and strength and also get two aspects that will help him be much harder to handle on defense.
"I'm working a lot on my get off and my strike and I want to get up to about 275 pounds before the start of my season," Lucas added.
As far as camps are concerned, Lucas said he will attend the May Madness event and the Nike Regional event next month and he also would like to hit the Washington camp and the Northwest Elite camp in early June.
With his size and productivity, Lucas is a very intriguing prospect and he's been blowing up this spring once schools have gotten a chance to get a look at his junior film and see him do some work in person. He said he's not close to making a decision and said he feels like he's close to more offers, so he's happy to wait and see what develops.
NEI will have more on Lucas in the coming weeks and months as he continues to work his way through the recruiting process and we'll update news on him as it happens.