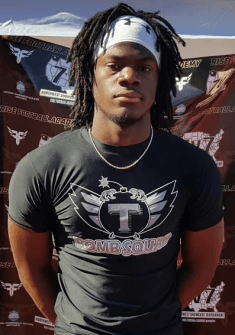 Since he missed his entire sophomore season with a knee injury, not many people know much about 2018 Graham (Wa.) Kapowsin, but that should change this fall once he takes his first varsity snaps.
"I basically tore the ACL, PCL and MCL in my right knee the week before the start of our season," Smith told Northwest Elite Index at a recent event. "It was a hard thing to take because I've always been healthy and played, but it didn't set me back. I just started working out and getting ready for this season and I really think I'm going to have a good year."
If his performance at the Rise 7v7 tournament held recently at Kent's French Field is any indication, Smith could be one of the stars on a team that is considered one of the top 4A programs in the state.
"I feel like, now that I'm back and healthy, that I can do anything my offense needs me to do," Smith said. "I can run inside or outside. I can get the tough yards between the tackles or go outside and make guys miss in space.
"I also feel comfortable catching the ball out of the backfield and I like to block as well."
since he's yet to take his first rep as a varsity football player, Smith will need to show coaches what he can do this fall, but he's hoping to get a jump-start on things by hitting some camps this summer.
"I'm definitely planning to go to Eastern Washington's camp and I also am going to go to Washington's camp too," Smith said. "I'm looking at some other camps, but I haven't really worked that out into my schedule just yet."
At 6′ and weighing in at 190 pounds, Smith already has very good size and with his athleticism, he could play on either side of the ball, but he prefers the offensive side. He's a player to keep an eye on over the next 18 months or so and, if he has the type of season many think he can have, he will definitely be a prospect with plenty of options when Signing Day 2018 approaches.