Click for Kelle Sanders Highlights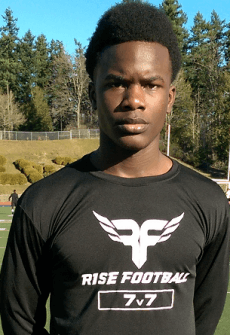 2017 River Ridge (Lacey, Wa.) DE Kelle Sanders has seen his recruitment pick up over the past month and he recently hauled in an offer from Wyoming.
"Right now, Wyoming is my only offer, but I have also been talking with Oregon and Fresno State a little," Sanders told Northwest Elite Index. "Washington State has been sending me a lot of stuff and I was invited to their Junior Day, but I couldn't get over there in time.
"Oregon State invited me to their camp and I've also been hearing from Montana State too."
Sanders was a two-way standout for a 10-1 River Ridge squad as a junior last season, hauling in 15 receptions for 203 yards as a tight end on offense while racking up 37 tackles, six tackles-for-loss, five sacks, an interception and a fumble recovery from his defensive end spot.
"I think the biggest thing for me is my size (6'5″, 215) and the fact that I can run pretty well for a guy my size," Sanders said. "I pursue hard to the ball and I never give up on a play."
This offseason, Sanders is focused like a laser on improving as a player.
"I am working hard on getting stronger," Sanders noted. "I'm in the weight room every day and out running a lot too, so I want to get stronger so that I can be even more of a factor against the run and the pass."
Sanders is planning to attend the Northwest Elite Camp the first week of June and mentioned the Oregon State camp as well and he also has plans to hit several other camps, but hasn't made any decisions on which ones at this point.
"I just want to compete and challenge myself against the best players out there," Sanders added.
With his outstanding size and athleticism, Sanders is an intriguing prospect. He has long arms, his get off is very good for a young man his size and he shows the competitive nature you want in an edge pass-rusher.
NEI will have more on Sanders in the coming weeks and months and we will update news on him as it happens.